Discover more from BenNollWeather
Hudson Valley weather and school predictions
Over 10,000 subscribers
Friday morning snow! ❄️
Update #418a
It may only be October, but a certain four letter word is already back in the forecast.
I mentioned in my winter outlook that 2020 had some climatic similarities with the year 2011, which had the memorable snow storm that "cancelled" Halloween. Remember that?
It looked something like this…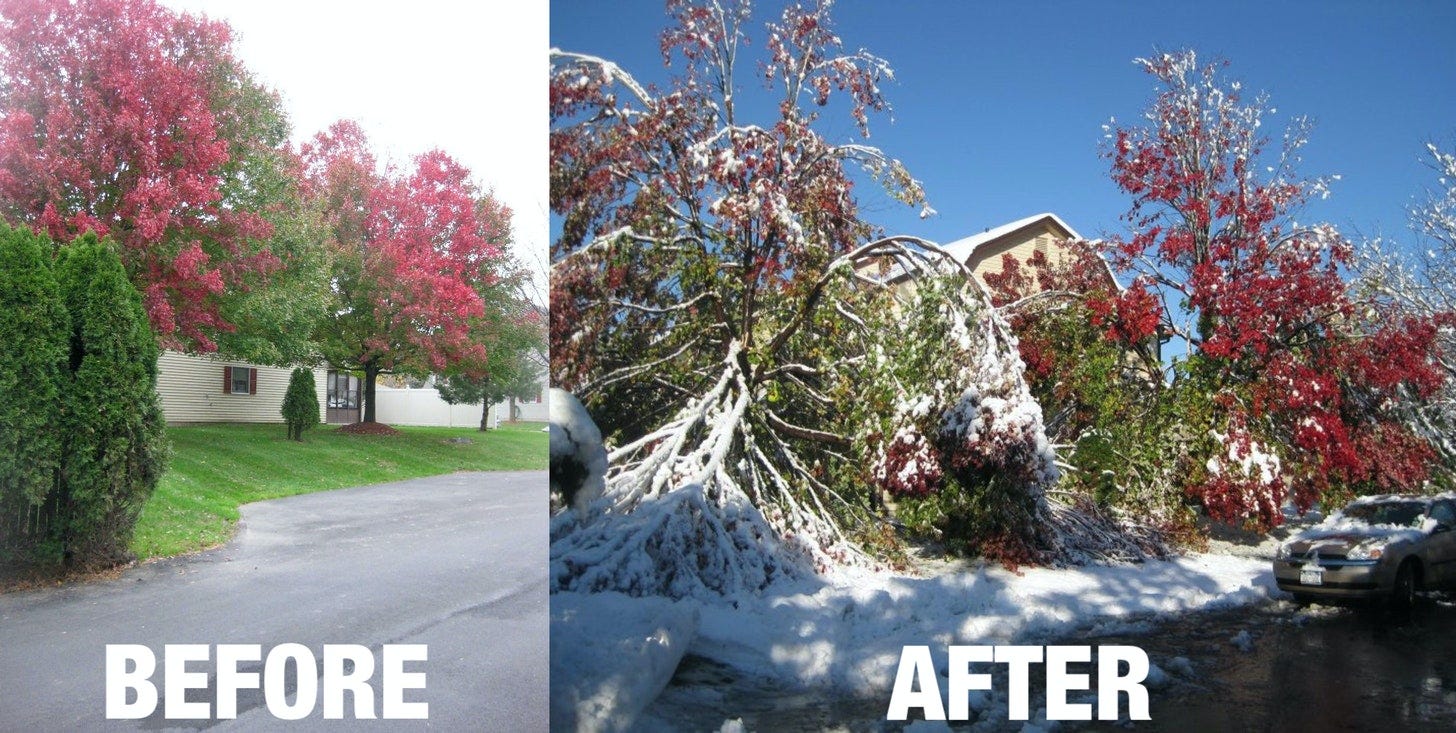 Fortunately, this is not what is expected on Friday morning.
Above freezing temperatures will make it difficult for any snow to stick, particularly following a rainy night with temperatures in the 40s.
Here's what you need to know:
What? Rain developing today and continuing tonight, mixing with and/or changing to wet snow on Friday morning.
When? Friday morning, mainly after 7:00 am, ending in the early afternoon.
How much? Little, if any, accumulation for most areas, possibly a coating on grass and car tops. A slushy inch or two possible in highly elevated areas (1500-2000 ft).
Temperatures? Dropping to 33-36 on Friday morning.
Impact? Probably some "it's snowing in October, only in 2020" tweets 😅. These will be novelty October flakes and a reminder that winter isn't far off. If you live in a highly elevated area, a small accumulation can occur, mostly on non-paved surfaces. Unseasonably cold temperatures in the 20s are expected Friday night.
In other words, not expecting a snow day!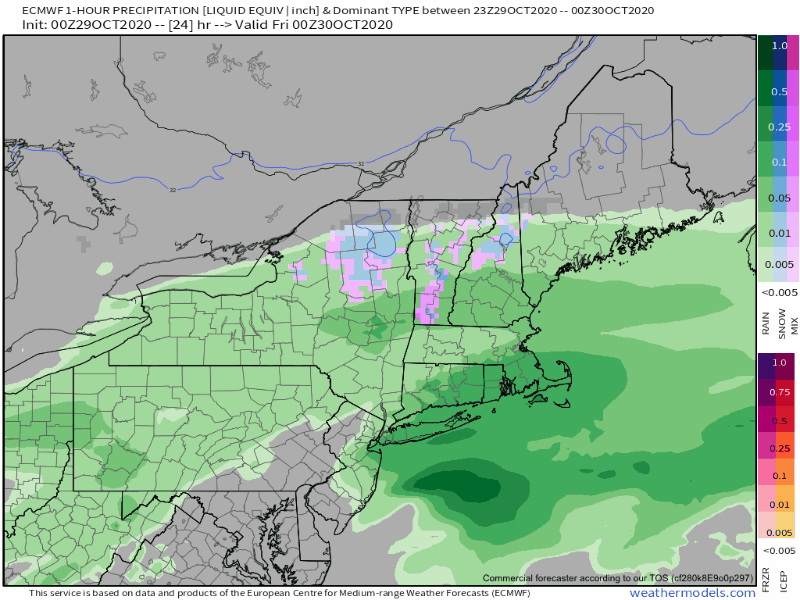 Simulated radar: 8:00 pm Thursday - 5:00 pm Friday
If a trace of snow is recorded on Friday, we'll make history.
If snow falls at the long-term climate site in Poughkeepsie, 172 days would separate the final snowfall of last season (May 11th) and the first snowfall of this one (October 30th).
This would be close to the shortest separation between first and last snowfall events on record, bested by 1965 (169 days) and 1987 (158 days).
Before you go, did you hear what Mahwah, New Jersey Public Schools announced about snow days? This what they said in a public statement on Tuesday:
We have decided that few childhood acts remain unchanged due to COVID-19 and we will maintain the hope of children by calling actual snow days due to inclement weather. Snow days are chances for on-site learners and virtual learners to just be kids by playing in the snow, baking cookies, reading books, and watching a good movie.

These are times for memory-making, and we believe these types of opportunities should remain intact.
---
This marks the start of my Hudson Valley winter weather updates. They'll go all season long and be issued as frequently as needed. You can show your appreciation by offering a small donation or grabbing some merch.