Discover more from BenNollWeather
Hudson Valley weather and school predictions
Over 10,000 subscribers
Chilly & windy start, warm finish
Update #419
2020 became the first year on record (since 1931) in the Hudson Valley to have snow in both May AND October. Did you expect anything less from this year? 🙃
Just 172 days separated the final snowfall of last season (May 11th) and the first snowfall of this one (October 30th) — not a record, but close.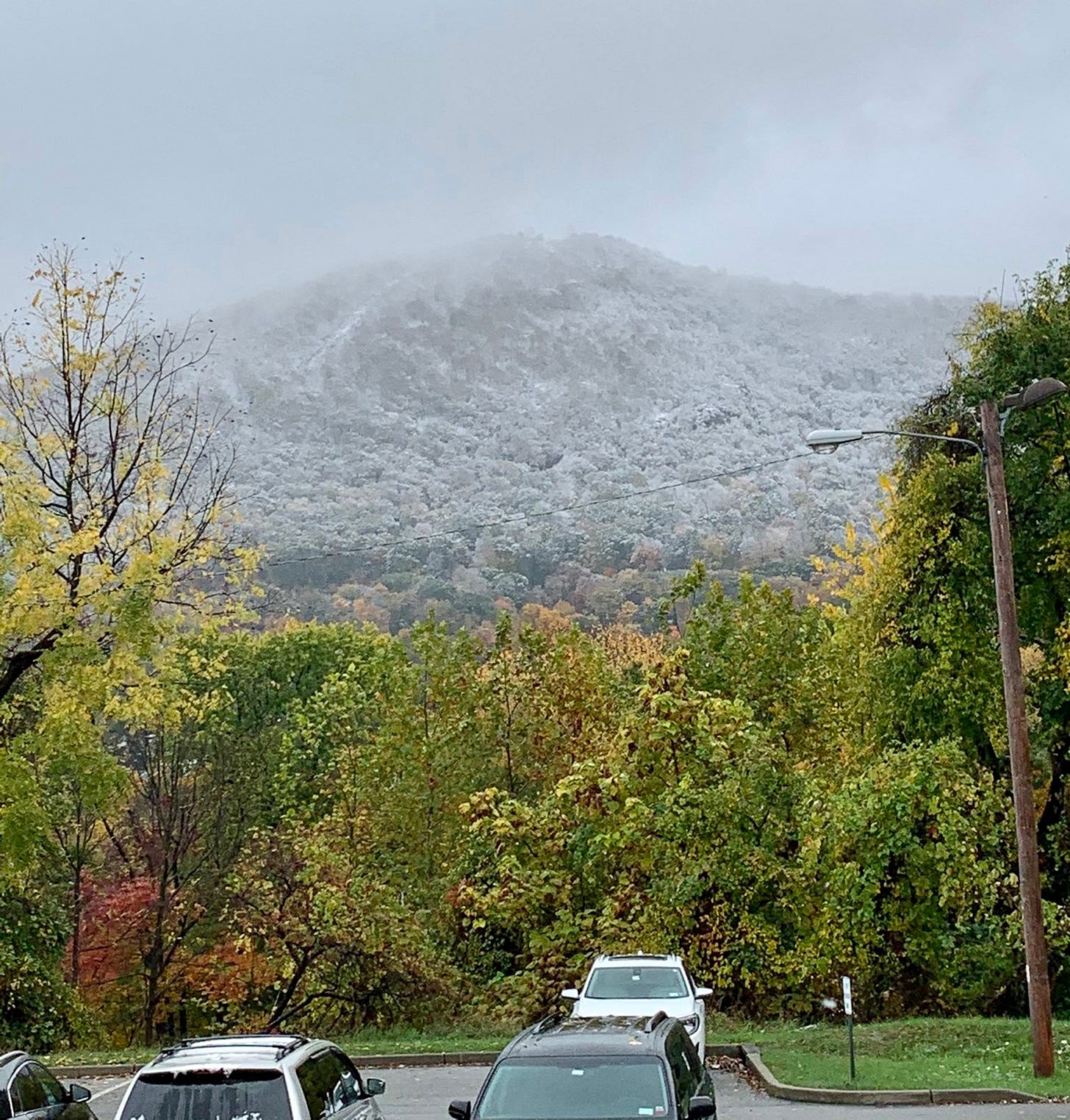 Mt Beacon on Friday, illustrating the elevation-dependent nature of the snow | 📸 Erin Card
After the snow, we awakened to our coldest morning since April on Saturday: Monticello dipped to 20, Montgomery to 21, and Poughkeepsie to 23 degrees.
So who's ready for a warm up? 🙋‍♀️ 🙋‍♂️ The end of the week is going to be awesome.
But first, a little more cold (and maybe snow!) to get through…
A strong Canadian cold front will track toward the region today (Sunday), with moisture from the Gulf of Mexico streaming northward out ahead of it.
For the Hudson Valley, there will be a round of rain later this afternoon and evening as the front blows through. The front's passage will be marked by a wind shift (south to west) and an increase in wind strength.
Very strong winds will arrive on Monday, when westerly gusts to around 50 mph (!) will be possible. Watch for blowing debris, such as leaves and tree branches, on roadways. Sporadic power outages can't be ruled out.
A potent upper-atmosphere disturbance will trigger widespread snow showers and scattered squalls across the Northeast on Monday morning. In the Hudson Valley, these will be possible during and after the morning commute. If one were to occur, expect briefly reduced visibility and the potential for a quick coating of snow. Remember to adjust your pace of travel if need be! My advice would be to keep an eye on the local Hudson Valley radar available on my website.
Simulated radar Monday morning: widespread snow showers
After Monday, the forecast trend is our friend. Tuesday will be another cool and breezy but dry day.
On Wednesday, the source region of our air mass will change from Canada to the Southwest thanks to a change in wind direction. The temperature will jump up nicely (upper 50s) under plenty of sunshine.
The warming trend will continue on Thursday and Friday, lasting through the weekend with a good deal of sunshine and daytime temperatures well into the 60s.
It could be much worse in early November! Enjoy it 😎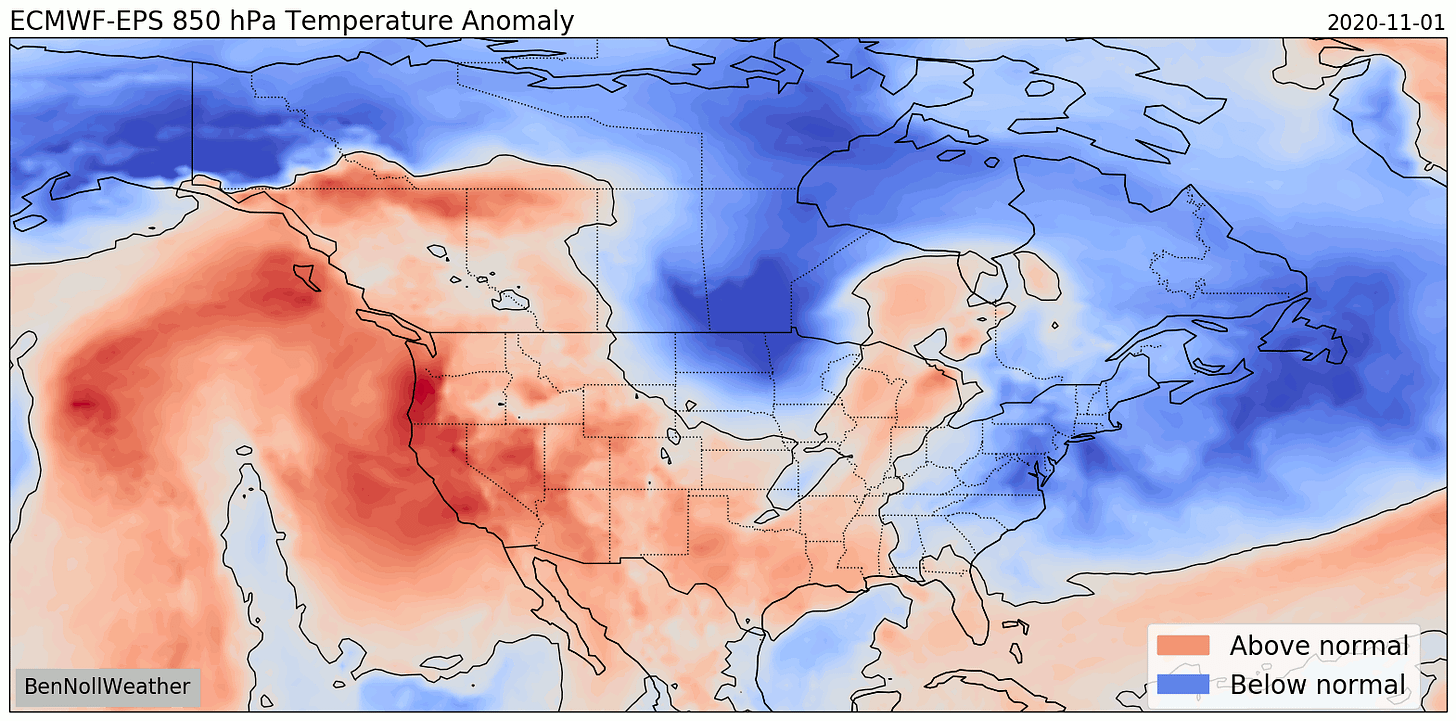 Colder than average temperatures (blue) give way to much warmer than average conditions (red) later this week
Looking ahead to the week of November 9th, a warm, dry pattern looks likely to start before a midweek frontal passage.
Which schools will have snow days?
As winter and snow day prediction season draws ever closer, I've asked the Hudson Valley community for help regarding which schools will have traditional snow days and which ones won't.
Here's how it is looking at the moment: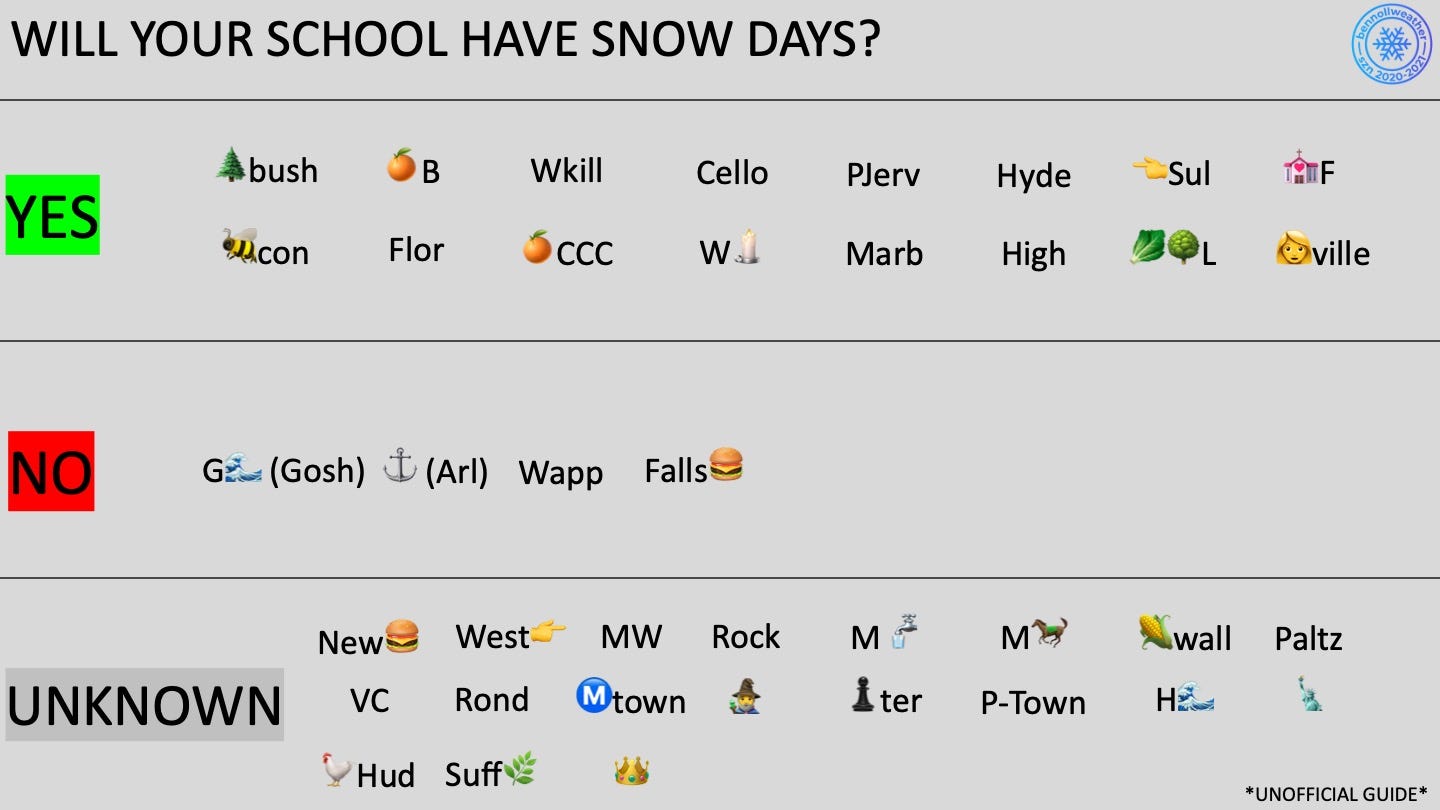 It is certainly subject to change as more information becomes available.
For some schools in the "yes" category, should a snow day occur on a district wide "virtual day", then virtual instruction is said to carry on as normal. However, if a snow day occurs on a day with in-person instruction, instruction will be canceled.
It's all a little complicated! If you've got something to add, let me know by commenting here.
---
If you find these forecast updates helpful, consider a small donation. Updates will come as frequently as Mother Nature commands during winter!