Discover more from BenNollWeather
Hudson Valley weather and school predictions
Over 10,000 subscribers
Fabulous fall weather
Update #416
A very good Sunday morning to you.
I've got some good news: the weather this week will hit the right notes, mostly. 50s, 60s, 70s, and sunshine are all in the forecast with little rainfall to speak of.
Octobers during La Niña events (a climate driver/influencer) have historically been associated with plenty of high pressure and agreeable weather in the Hudson Valley. November could be a bit different (cooler), however.
Much more on this in my winter outlook, which I plan to release during the weekend of the 17th.
View from above
Let's take a look at the view from above the country this morning. Orbiting the Earth from 22k miles up, the GOES-16 constantly takes pictures of atmospheric phenomena from its vantage point 🛰️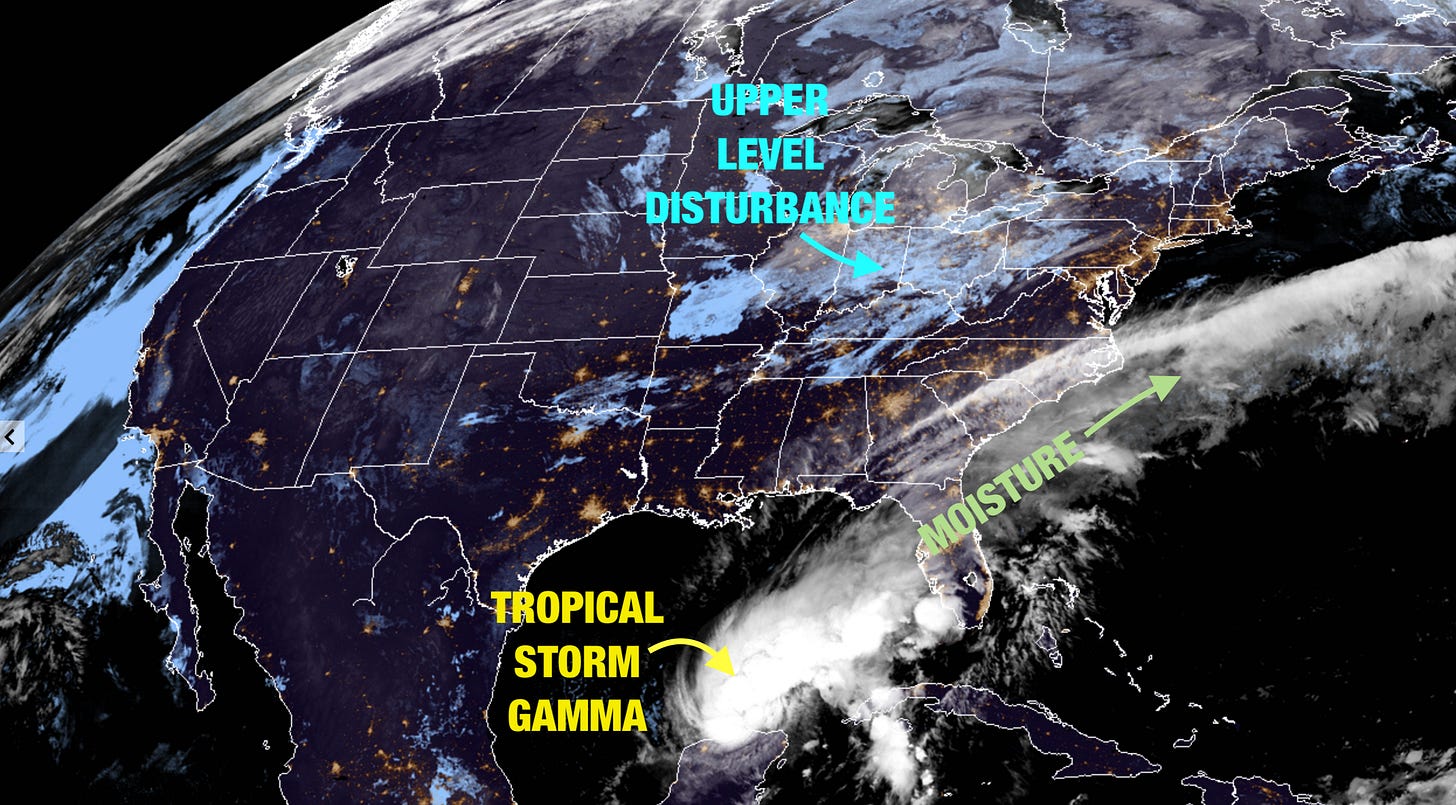 Just from one snapshot, we know that there's a tropical storm in the southern Gulf of Mexico whose moisture is getting tugged along the eastern seaboard. We can also see a clump of clouds in the Midwest, associated with a disturbance in the upper atmosphere.
Fortunately, both of these features will largely avoid the Hudson Valley today and Monday — we know this because of numerical weather prediction or weather models that simulate the atmosphere based on equations of motion and moisture transport.
The working week
As the moisture from Tropical Storm Gamma skirts offshore, the Midwestern disturbance will fizzle out as it approaches the Hudson Valley from the west on Monday morning.
We'll be left with clouds and some sunshine on Monday and, if we're unlucky, a passing morning shower.
Tuesday sees a flat ridge of high pressure (happy weather) move over the region, before it gets squashed to the south and east by an incoming front during the second half of Wednesday. Wednesday will feature a round of late afternoon rain as the cold front pushes through, which will also come with some gusty winds. A rumble of thunder can't be ruled out.
In the front's wake will be a notably cooler air mass from Canada and blustery conditions for Thursday. Canadian high pressure will settle in on Friday, bringing the coolest day of the week but light winds and plenty of sunshine.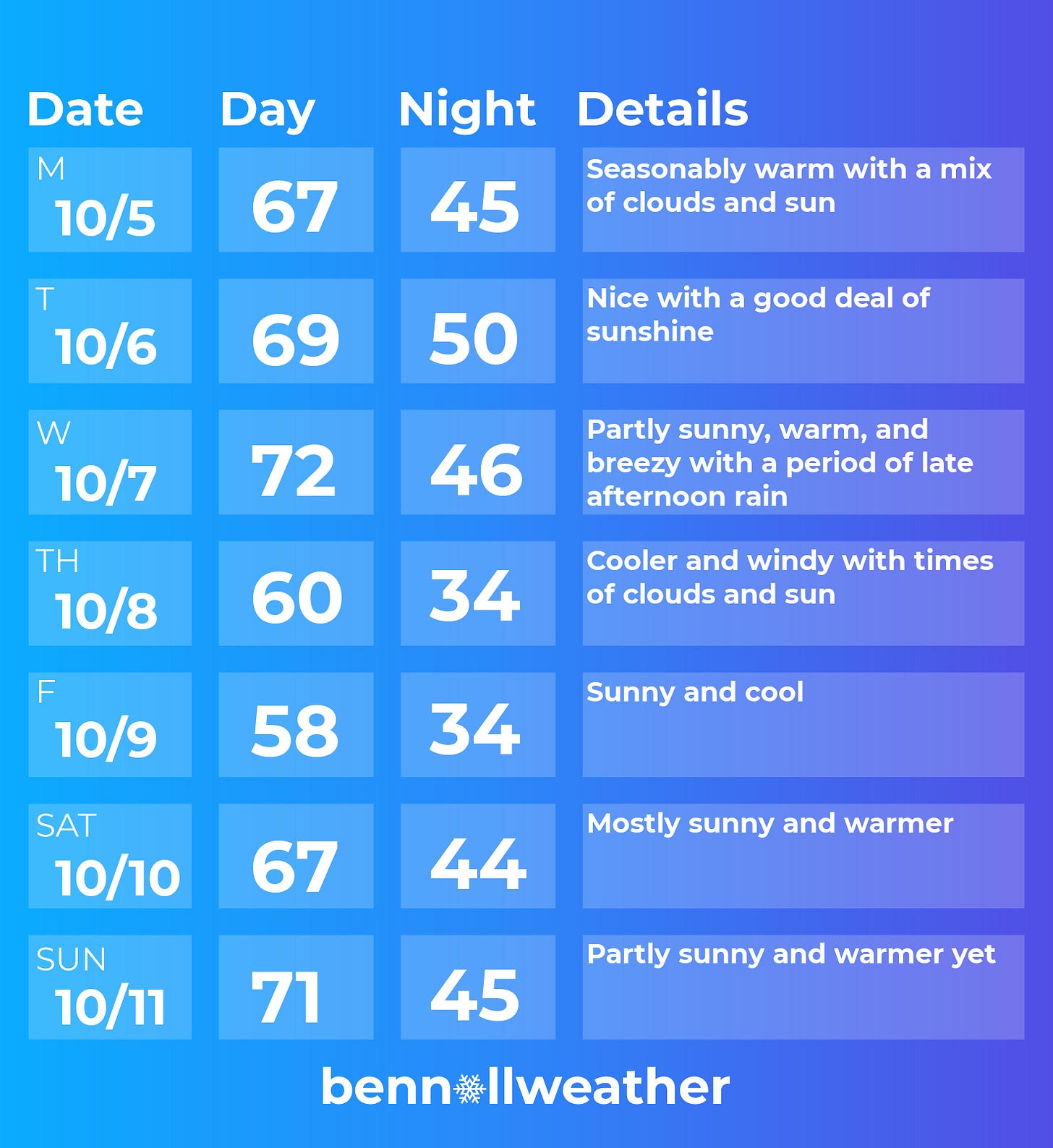 By next weekend, the Canadian high will slide offshore, and the clockwise flow of air around the system means that warmer southwesterly winds should return to the Hudson Valley. That would spell some nice mid-October conditions 👍
Looking further ahead, the week of the 12th could bring yet more warmer than average conditions to the region. The 3rd week of October could be on the warmer side too. Maybe keep a pair of shorts or two handy just in case we get a day near 80! 🌞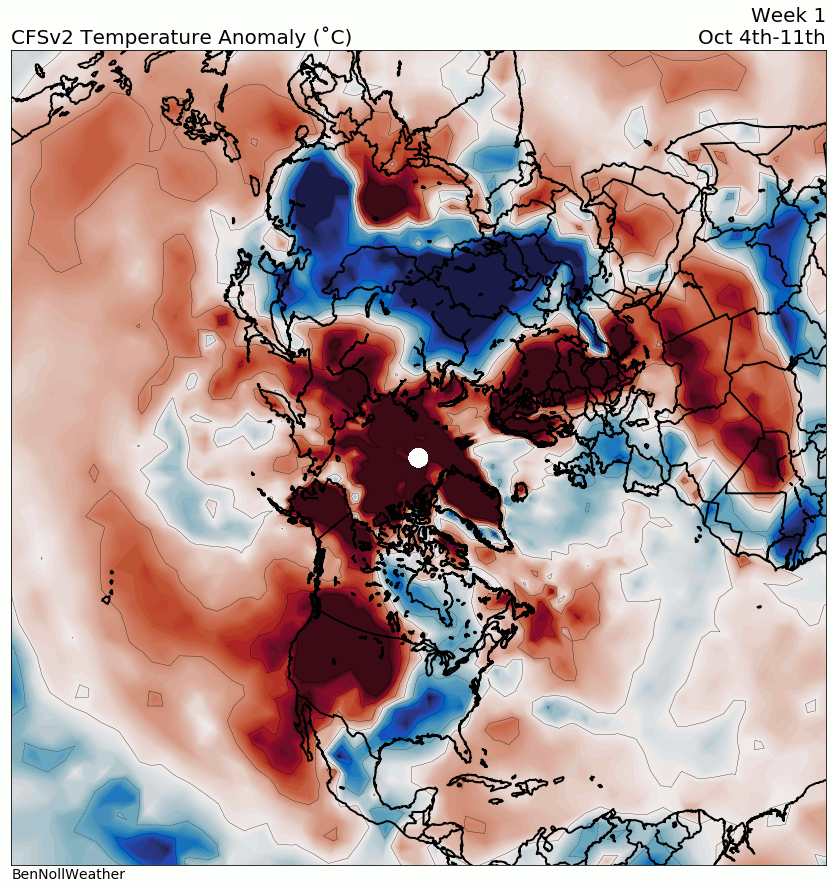 Above (below) average temperatures in red (blue) over the next 4 weeks
Update from Down Under
Here in New Zealand, we've now gone 11 days without a case of community transmission and the belief is that the virus has very likely been eliminated for a second time.
This means we can, fingers crossed 🤞, look forward to Halloween, Christmas, and New Year's celebrations as well as summer festivals without any restrictions.
Schools have generally continued to operate as normal since we originally eliminated the virus back in May, aside from localized closures when Auckland saw more cases crop up during August.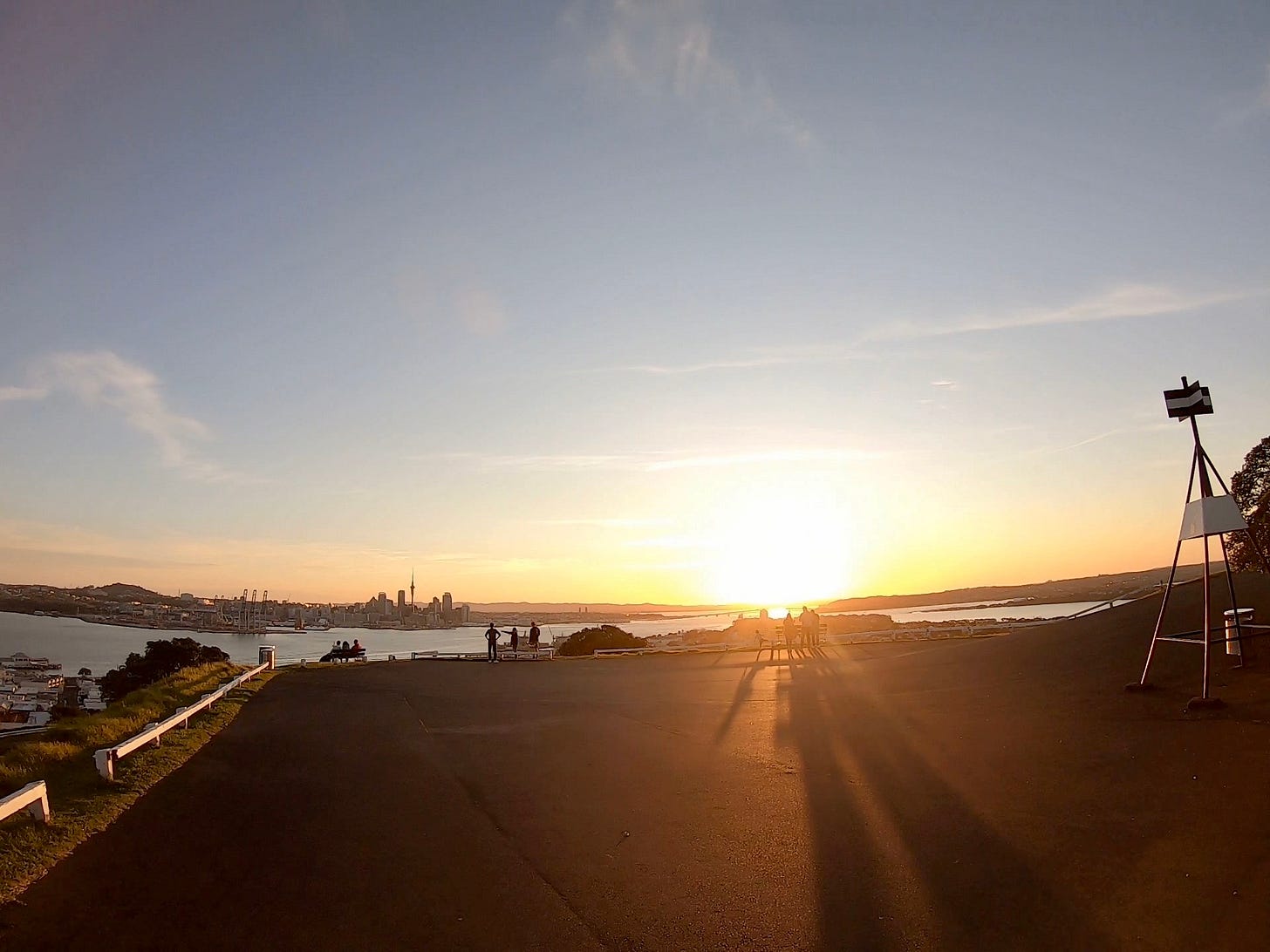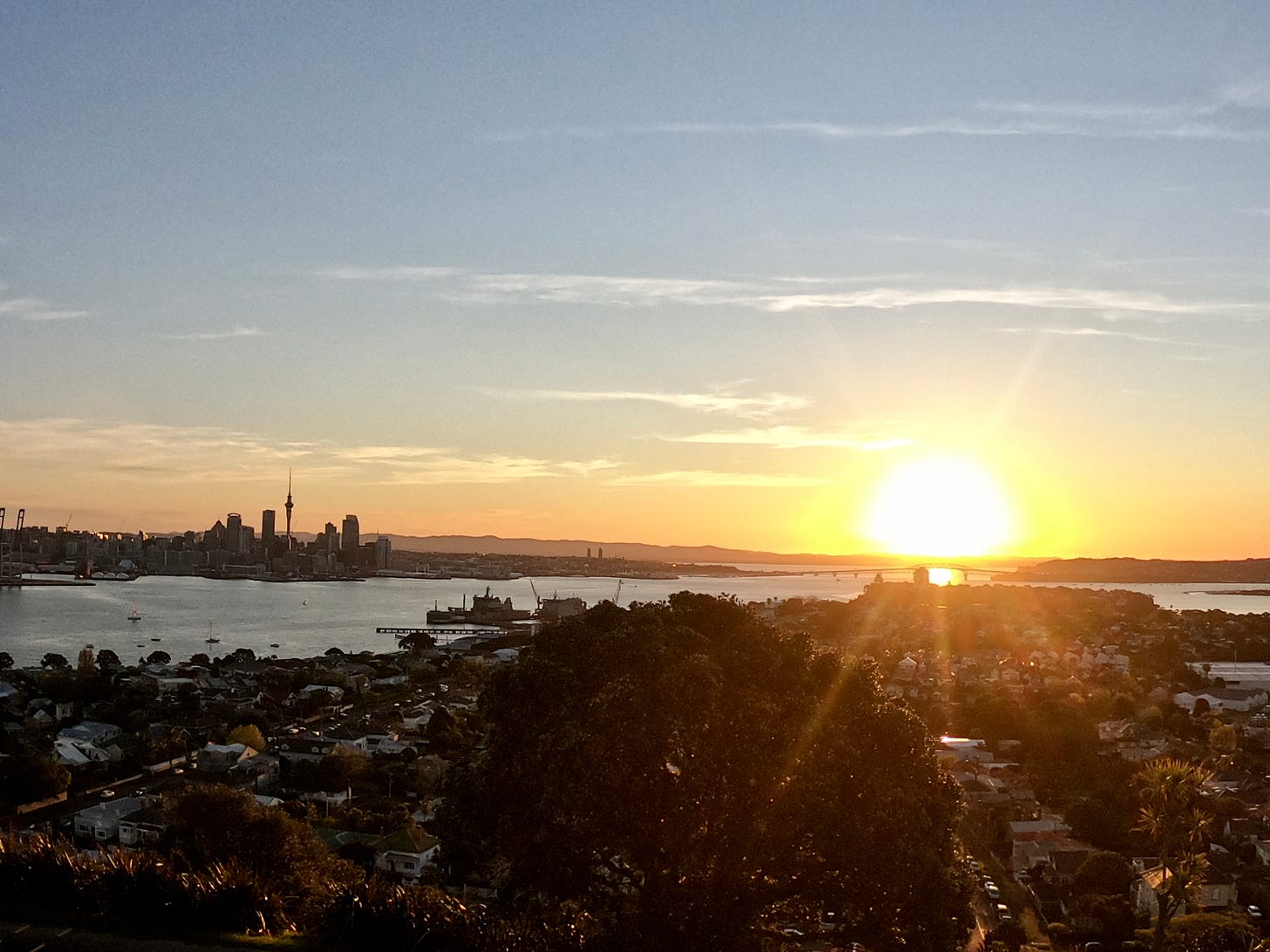 Saturday's sunset in Auckland 🌅
Have a wonderful week.
Ben
---
Donate
My forecasts have always been free. I do it out of my passion for the weather and find enjoyment in trying to stay one step ahead of Mother Nature. Thanks for coming along with me on the journey!
For years I've actually paid out of pocket to keep up my mailing list. I fund my efforts partially through my merch: https://teespring.com/stores/bennollweather
Your donations are much appreciated: https://www.paypal.com/cgi-bin/webscr?cmd=_s-xclick&hosted_button_id=UZBXYEUA89SPC&source=url