Discover more from BenNollWeather
Hudson Valley weather and school predictions
Over 10,000 subscribers
Mother Nature gets high marks to start
Update #412
Greetings everyone, Ben Noll here with another weekly weather update.
For many, the upcoming week marks the start of a new school year, although it will be unlike any school year ever before. As the summer heat fades to an autumn chill and fallen leaves give way to frost and eventually snow, trust that I'll be by your side with the forecast.
About 59% of students said that their school year will have a mix of virtual and classroom learning while 33% are going all-virtual.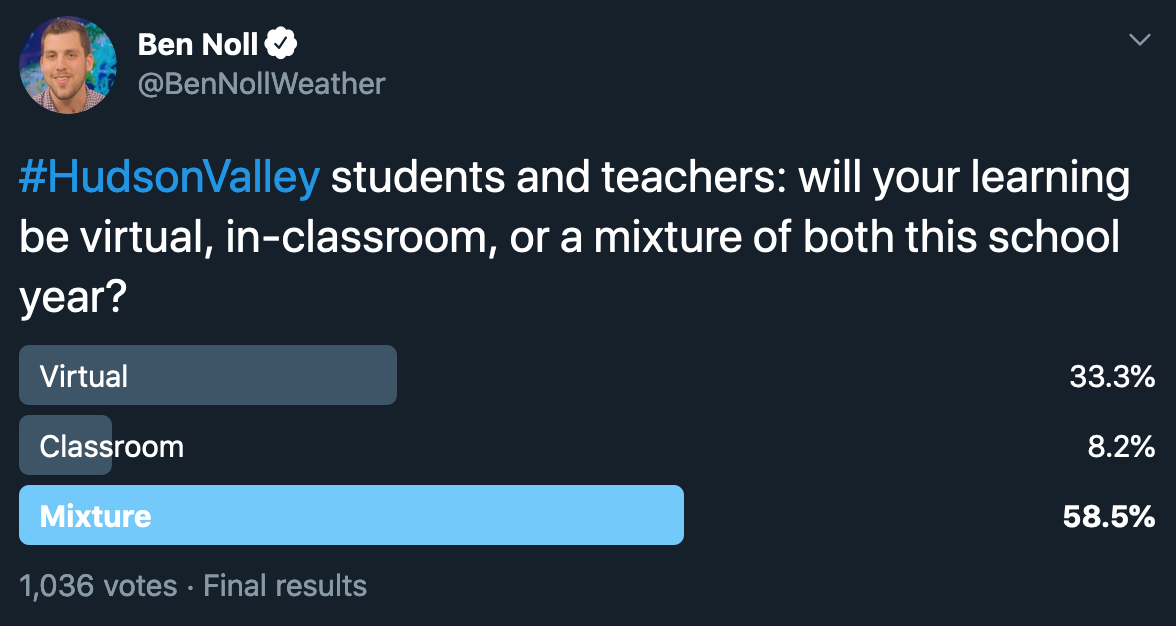 My snow day prediction is alive and well, but like just about everything else, a snow day will take on a different meaning in 2020 as it pertains to school.
78% of Hudson Valley respondents indicated that snow days would be something different this year, either suggesting that there wouldn't be any (virtual learning) or that it was "complicated". We'll come to understand this new, complicated normal in time.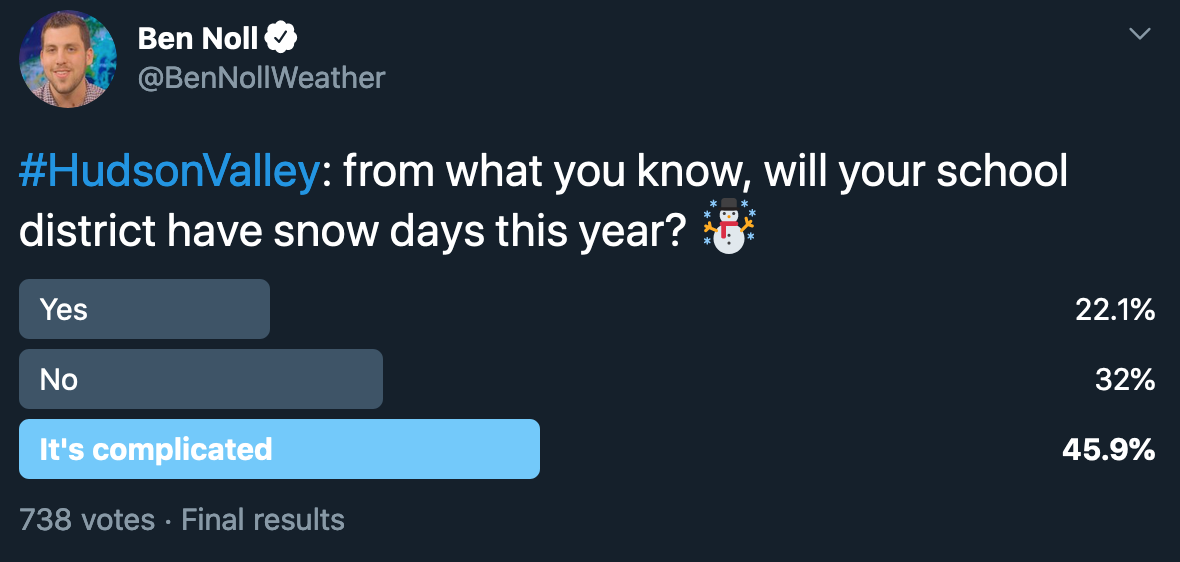 The forecast
For the week ahead, summer-like warmth will make a return.
80+ degree temperatures reenter the forecast on Monday as a southerly air flow sets in. A few more degrees will be added to the high for Tuesday with humidity gradually rising, but dry conditions will prevail.
Rather hot and humid conditions are expected for Wednesday with temperatures reaching the mid to upper 80s.
The heat and humidity will continue on Thursday. Some moisture could sneak up the eastern seaboard, causing some extra clouds and a chance for passing showers and maybe even an isolated thunderstorm in the Hudson Valley.
For Friday, the forecast will depend on the timing of a cold front. If it passes early enough, the day could turn out decent with lowering humidity. If not, we could see the sticky weather linger for a little longer.
If you're interested in forecast updates as the week goes along, I've programmed a Twitter bot to tweet the forecast just before 7:00 am each day: https://twitter.com/WeatherBotHV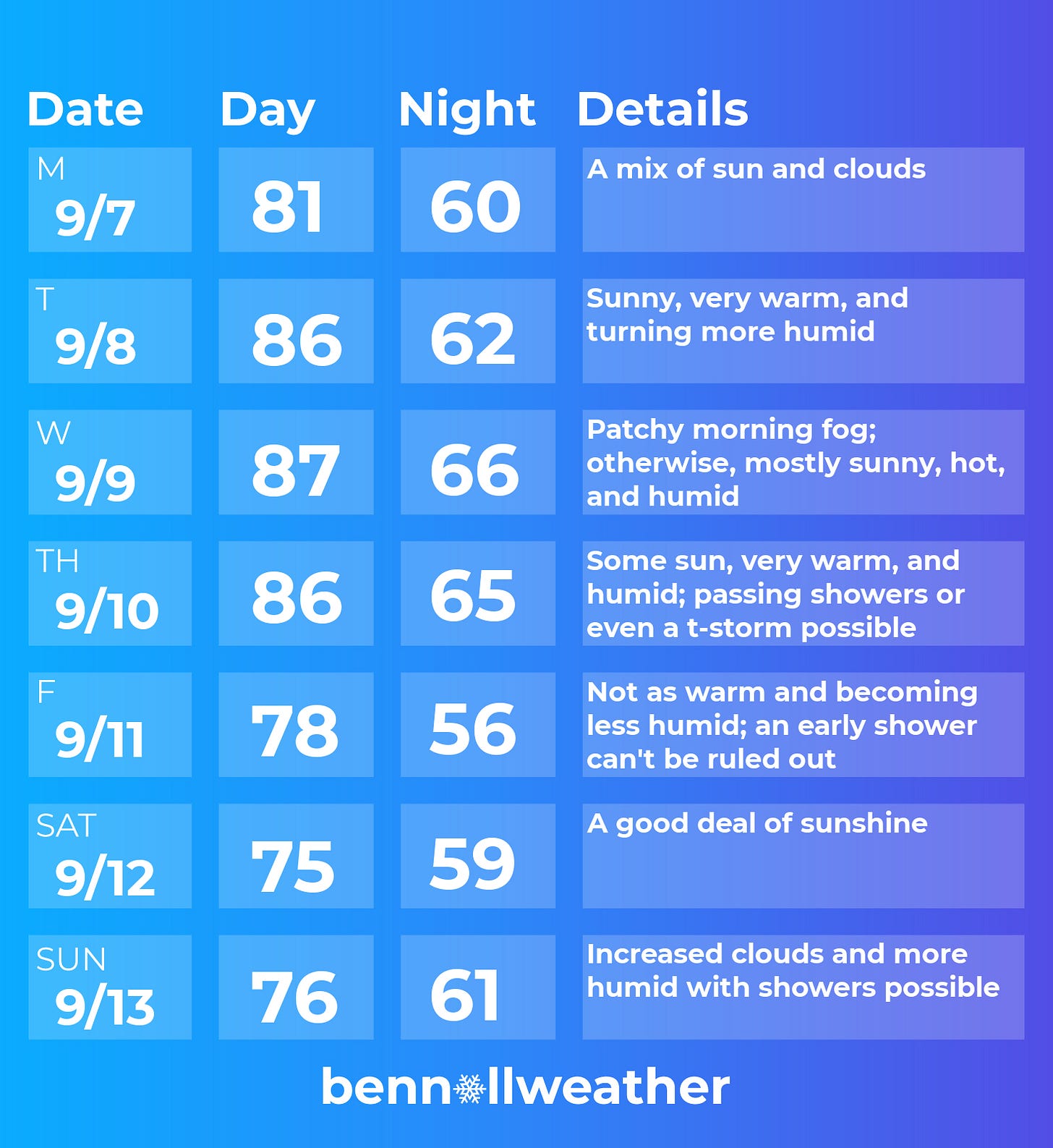 Right now, Saturday looks to be a nice day, assuming Friday's front doesn't have any tricks up its sleeve.
Sunday sees the chance for showers increase, but nothing I'd cancel plans over at the moment.
The week of the 14th could feature some cooler air in the Northeast 🍂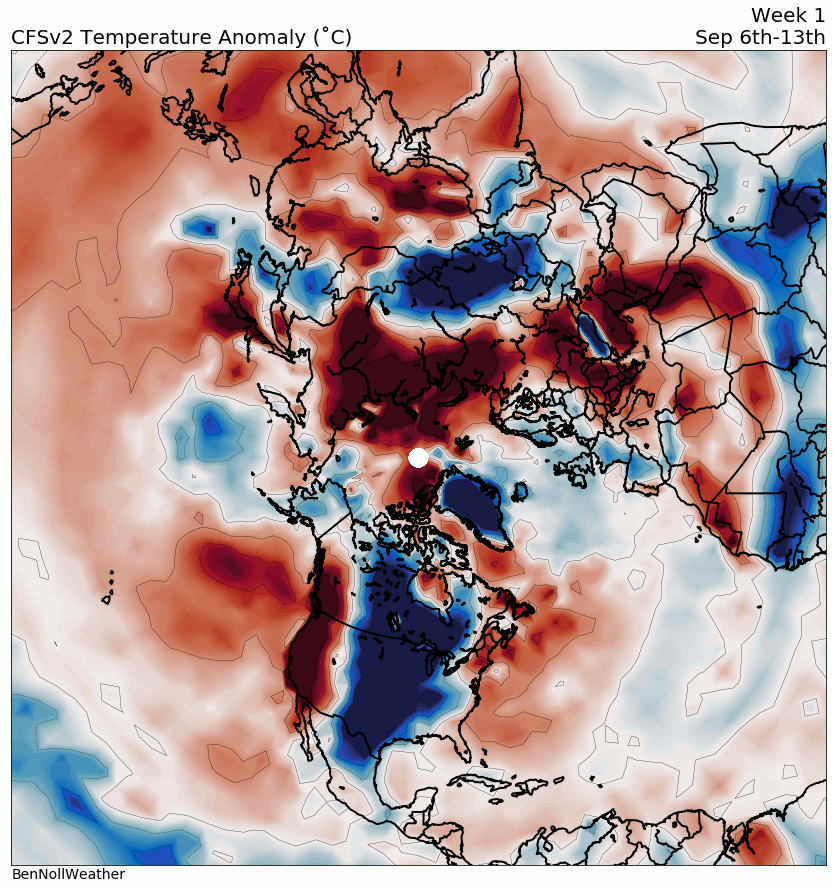 Week 2 and week 3 are shown to have cooler than average temperatures in the Northeast
Did you see what's happening in Denver?
In the best of times, Colorado's weather isn't for the faint of heart. The upcoming week is, well, crazy even for Colorado's standards.
Let this sink in: Denver is set to have a high near 100 today before falling into the upper 20s on Tuesday night with snow 😱
I'm not joking!

This weather chaos is being caused by a rather monstrous early season Arctic cold front sliding down the Rockies. Cold, northeasterly winds crash into the Rockies and the air is forced to rise, condensing out to clouds which will dump (very) early season snow.
A picture is worth a thousand words. Just watch this and you'll get it…
Temperatures will be as much as 50 degrees below average in Colorado on Tuesday
I'll take the Hudson Valley's weather every day of the week and twice on Sundays.
Have a good one.
---
Donate
My forecasts have always been free. I do it out of my passion for the weather and find enjoyment in trying to stay one step ahead of Mother Nature. Thanks for coming along with me on the journey!
For years I've actually paid out of pocket to keep up my mailing list. I fund my efforts partially through my merch: https://teespring.com/stores/bennollweather
Your donations are much appreciated…
🔗 https://www.paypal.com/cgi-bin/webscr?cmd=_s-xclick&hosted_button_id=UZBXYEUA89SPC&source=url