Discover more from BenNollWeather
Hudson Valley weather and school predictions
Over 10,000 subscribers
October opens on a cooler note
Update #415
Good morning everyone. Ben here with another weekly weather update.
If you only have a few seconds, here's the whole week in one sentence: a warm, humid start followed by a seasonably cool finish with a few rounds of rain.
For those with a bit more time, read on for the forecast details and to learn when you might expect to see my Hudson Valley winter outlook 👀
September so far
In terms of temperatures, September has been a pretty average month in the Hudson Valley: we've largely been within a degree of the long-term average. It's been an abrupt change following one of the warmest summers on record. So far this year, we've been about two degrees above average.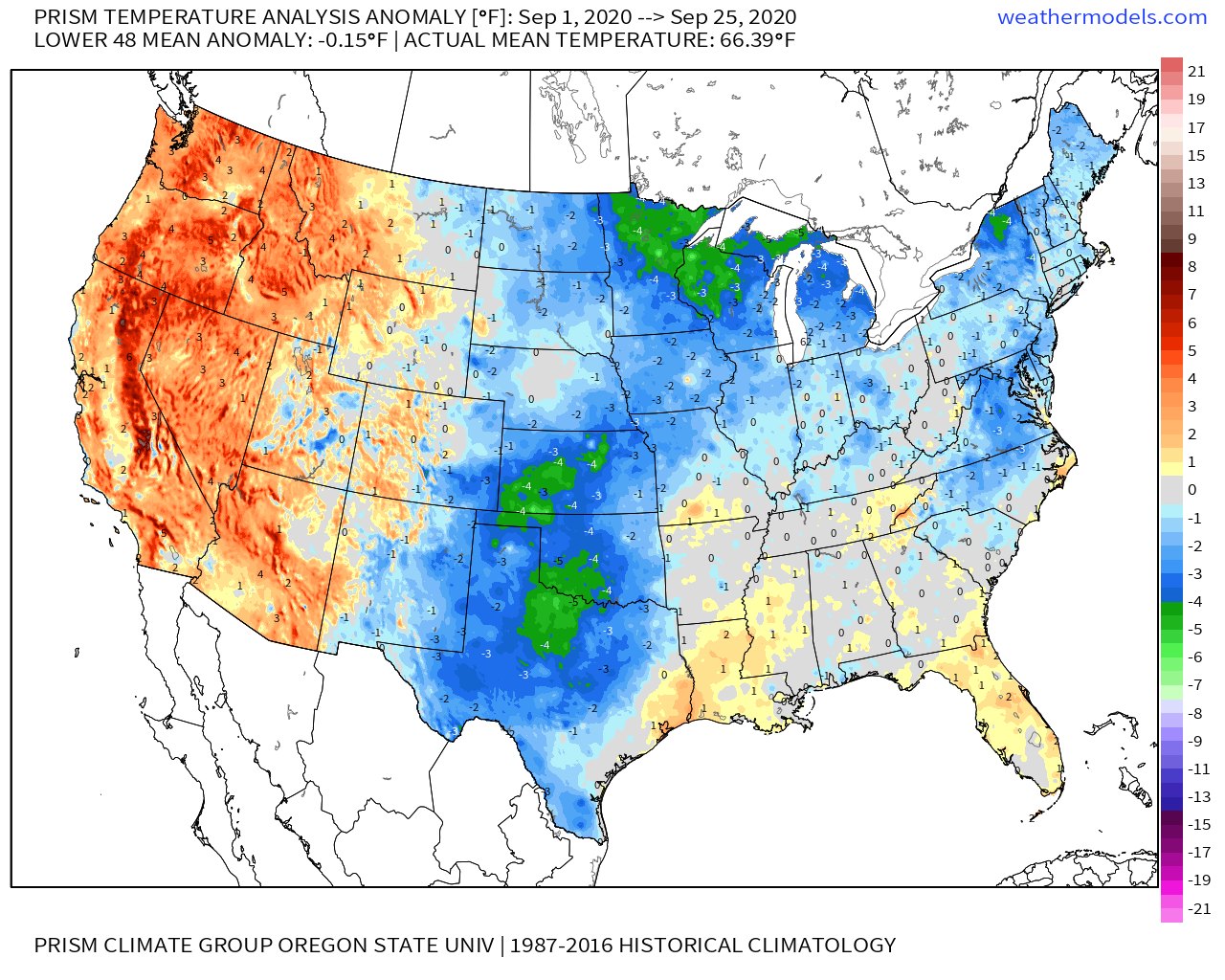 In terms of precipitation, it has been quite a dry month, with most of us receiving only about 25% of normal rainfall so far. As you'll see, that will change during the next week, with some beneficial rainfall in the forecast.
The working week
Mother Nature isn't concerned with calendar dates when it comes to the weather that she dishes up, but this time, the start of a new month will come with a transition in our weather pattern.
The week will start off on the warm and muggy side before a front slides by on Wednesday and Thursday. We'll see tranquil but cool weather to end the week.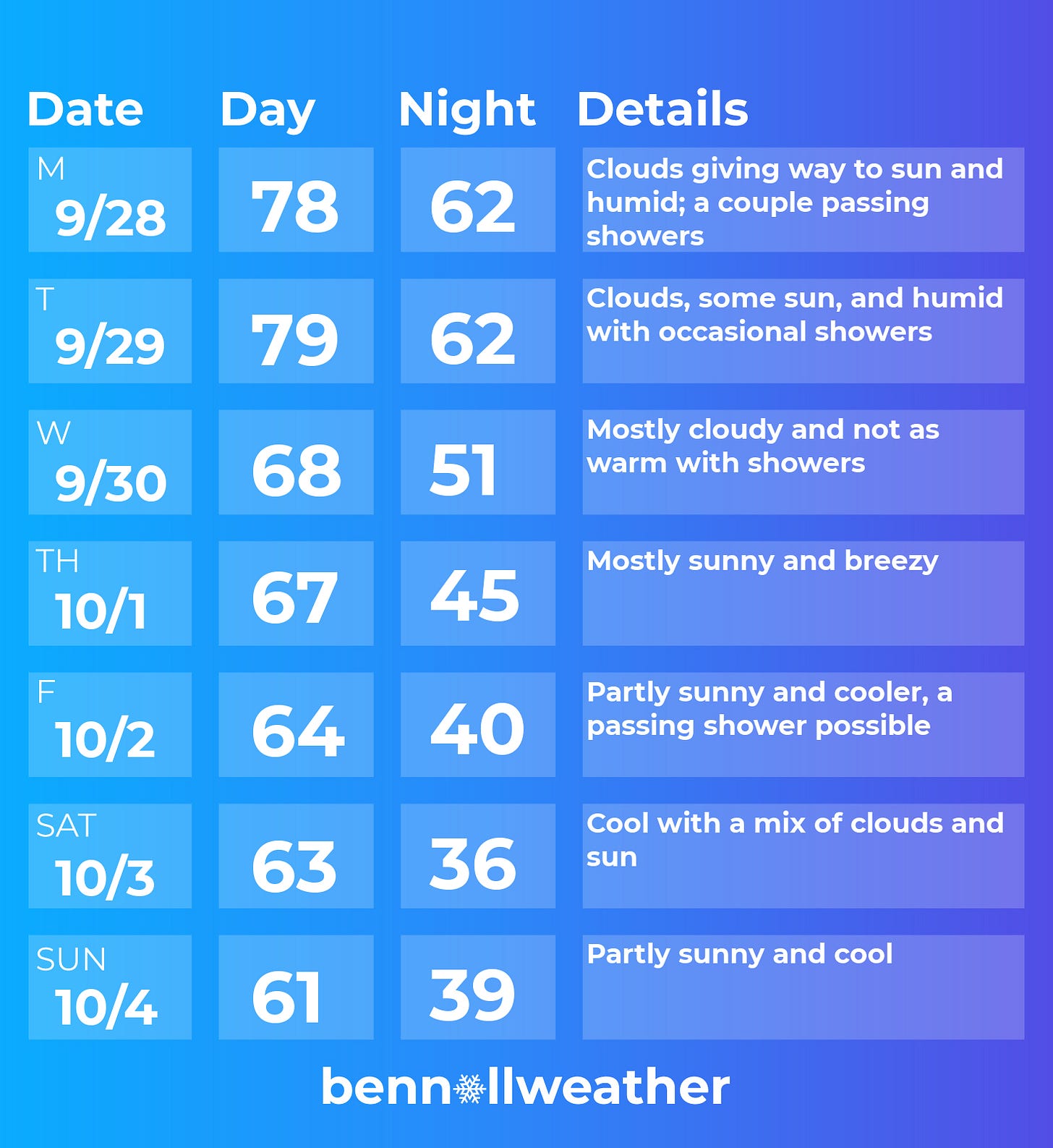 After a mostly cloudy start to Monday, sunshine will build. A couple of passing showers are expected amid a warm southerly air flow. Tuesday will be quite similar to Monday, but by night a front will approach the region from the west. Looking at the expected temperatures and humidity levels, you might have to flick on the AC.
On Wednesday, the front will stall as it reaches the eastern seaboard, running up against a strong ridge of high pressure in the Atlantic Ocean.
A series of low pressure systems will form along the stalled front, causing several rounds of rain in the Hudson Valley on Wednesday and Wednesday night. The wet weather probably won't be constant, but the rain could certainly fall steadily to heavily at times. One period that looks particularly wet is the second half of Tuesday night, before sunrise on Wednesday.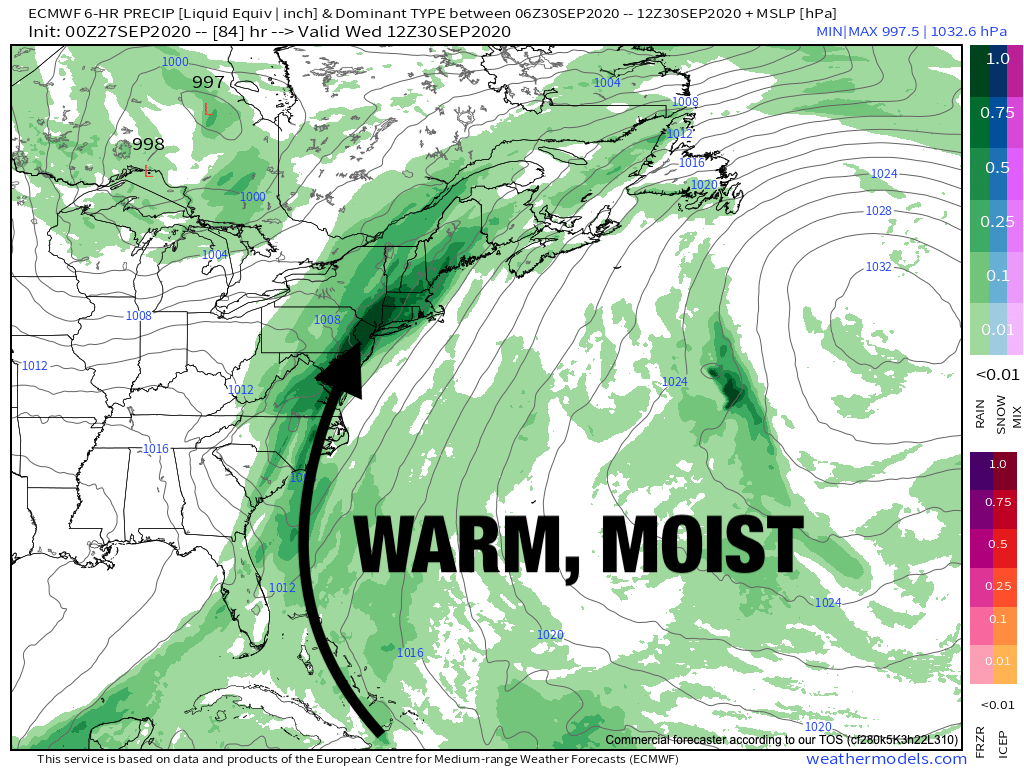 By Thursday, the front is forecast to finally clear off the East Coast, with a cooler westerly air flow in its wake — conveniently ushering a pattern change for the first day of October!
An unseasonably chilly air mass will sit to the west of the region over the Canadian Prairies and Great Lakes, with predictions of early season snowflakes as far south as Minnesota and perhaps northern Michigan.
For the Hudson Valley, the air mass will turn just a little cooler after the passage of another front later Friday.
At this point, the weekend is looking seasonably cool and dry with high temperatures in the lower 60s.
The week of October 5th is looking fairly cool at this point with one or two fronts possible, but no snow just yet!
Looking ahead to the second half of October, after the relatively cool start, it looks like we'll be warming up. By then, our average highs are in the low 60s, so a warmer than average day in mid-October is different from a warmer than average day right now.
Long-range models can give us hints about the most likely weather flavor (i.e. warmer/cooler/wetter/drier) but not the precise forecast details weeks in advance.
In the animation below, see how the blue shades (🔵 below average temperatures) during weeks 2 and 3 give way to red shades (🔴 above average temperatures) by week 4?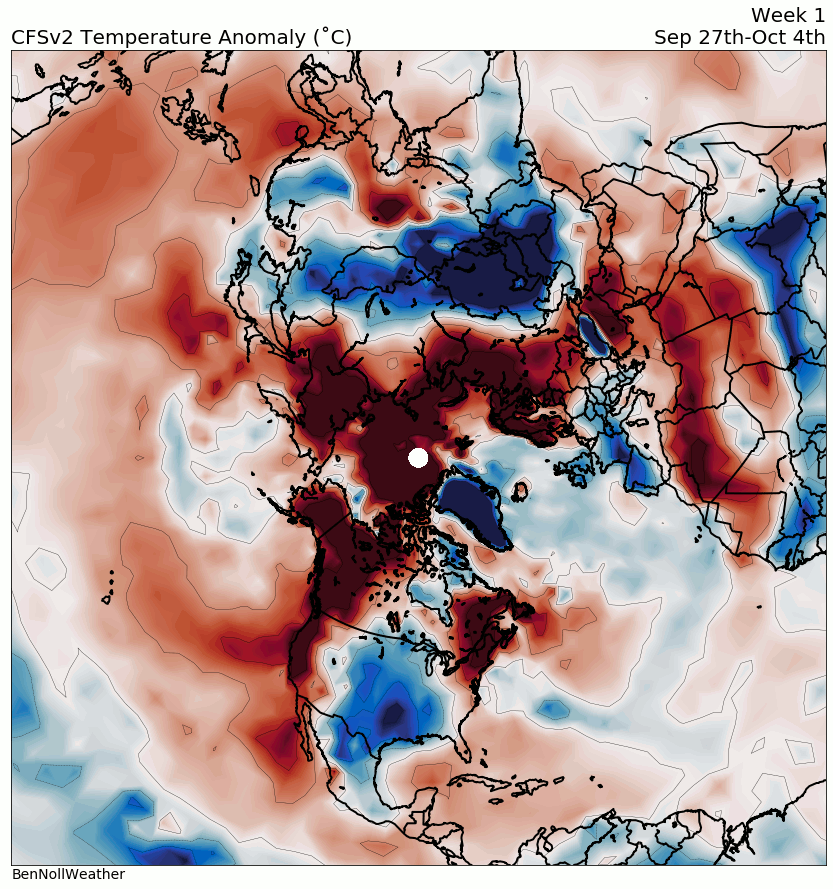 Speaking of long-range forecasts, I've already started fielding questions about the Hudson Valley winter outlook. I'm planning to issue my outlook in October, coming with plenty of imagery and a full write up — looking forward to sharing it with you!
New merch
I've got a new line of merch all ready to go for winter. Comfy clothes are definitely the in-thing in 2020 with many of us working and schooling from home. An oversized sweatshirt for those cool October and November mornings would be perfect!
BenNollWeather store: https://teespring.com/stores/bennollweather
▫️ Long sleeve shirt: https://teespring.com/2020-2021-long-sleeve-tee?tsmac=store&tsmic=bennollweather&pid=11&cid=360
▫️ Short sleeve shirt: https://teespring.com/2020-2021-short-sleeve-tee?tsmac=store&tsmic=bennollweather&pid=2&cid=2397
▫️ Hoodie: https://teespring.com/2020-2021-hoodie?tsmac=store&tsmic=bennollweather&pid=212&cid=5819
▫️ Crewneck: https://teespring.com/2020-2021-crewneck-sweatshirt?tsmac=store&tsmic=bennollweather&pid=345&cid=6354
▫️ Mug: https://teespring.com/2020-2021-mug?tsmac=store&tsmic=bennollweather&pid=658&cid=102908
▫️ Sticker: https://teespring.com/2020-2021-sticker?tsmac=store&tsmic=bennollweather&pid=794&cid=103544
▫️ Pet hoodie: https://teespring.com/2020-2021-pet-hoodie?tsmac=store&tsmic=bennollweather&pid=891&cid=103806
If anything strikes your fancy, use the promo code "benseason" for 20% off ☺️
August showers bring September flowers
In the Southern Hemisphere, that is! Here are few photos that I snapped this weekend amid the spring bloom here in New Zealand. In the Southern Hemisphere, the seasons are reversed (compared to the Northern Hemisphere) and it is now spring. Enjoy! 🌸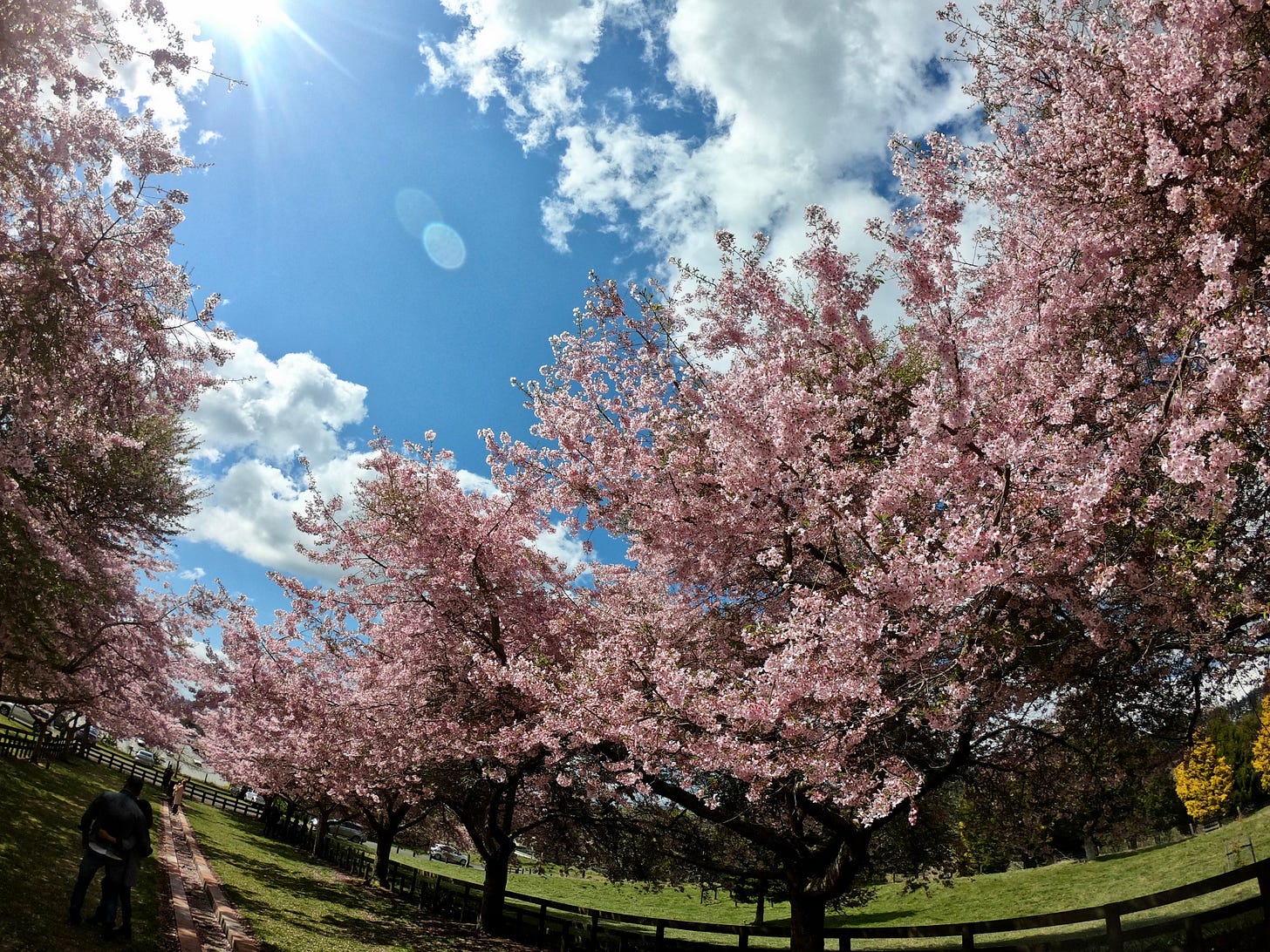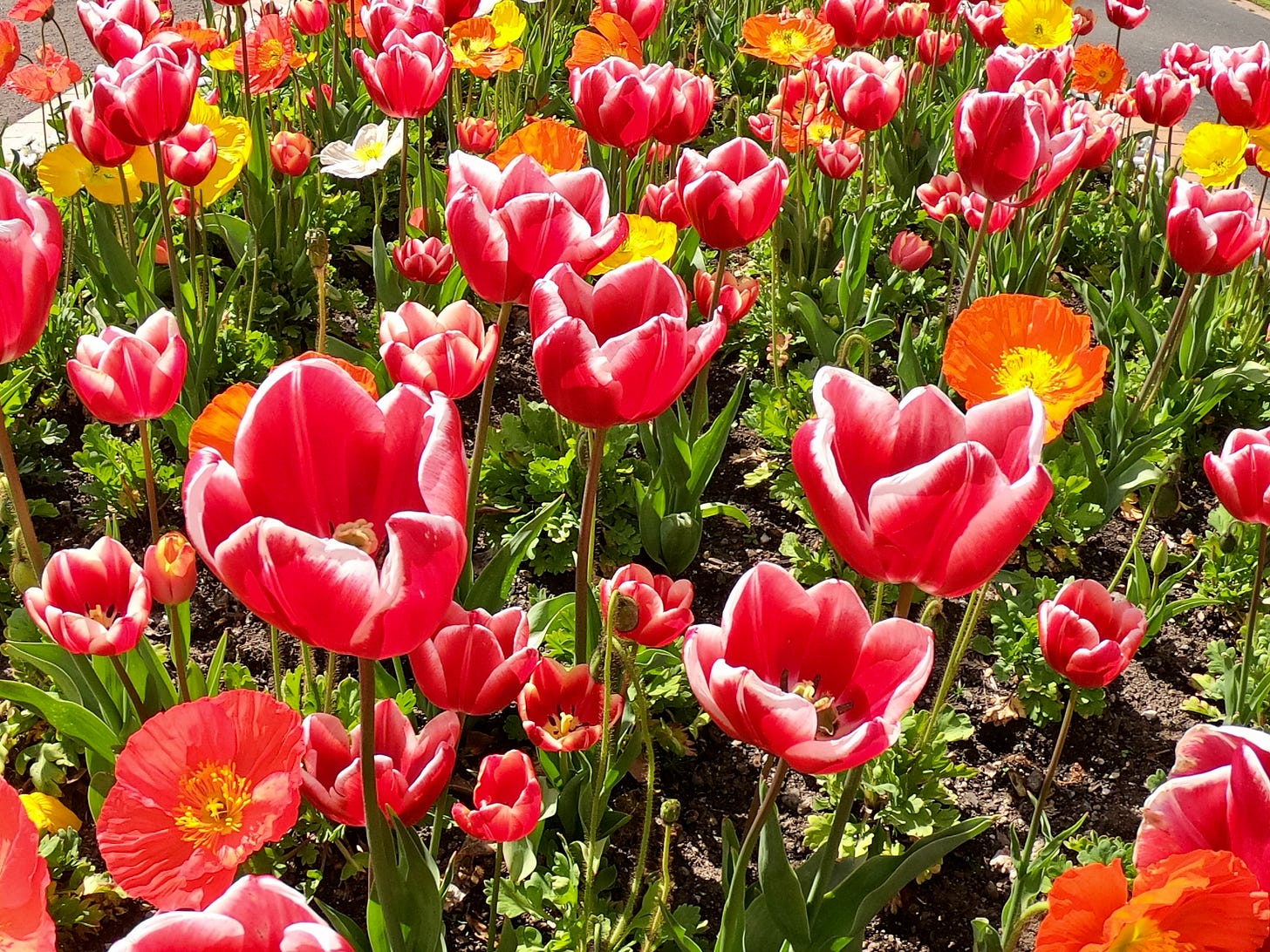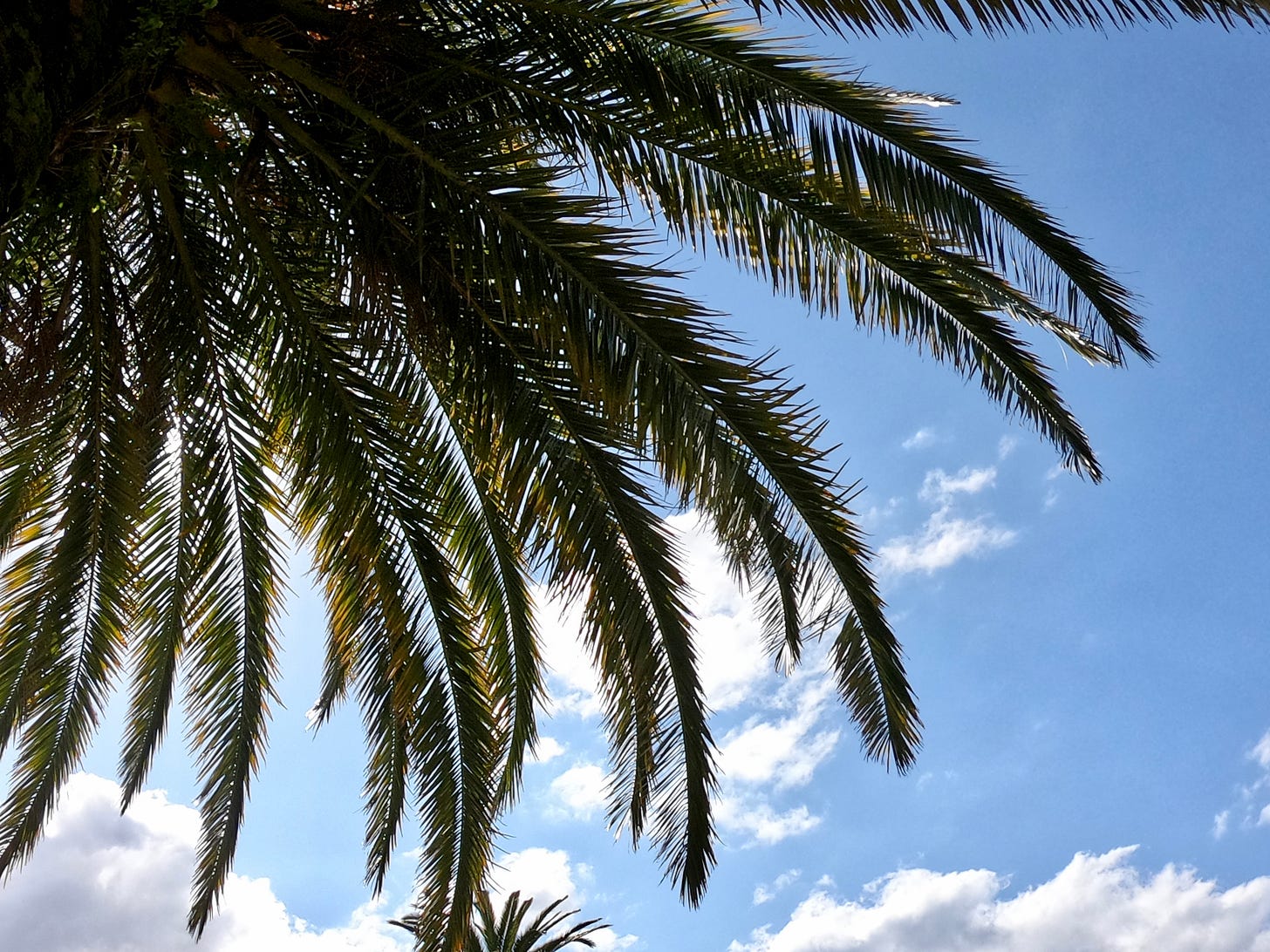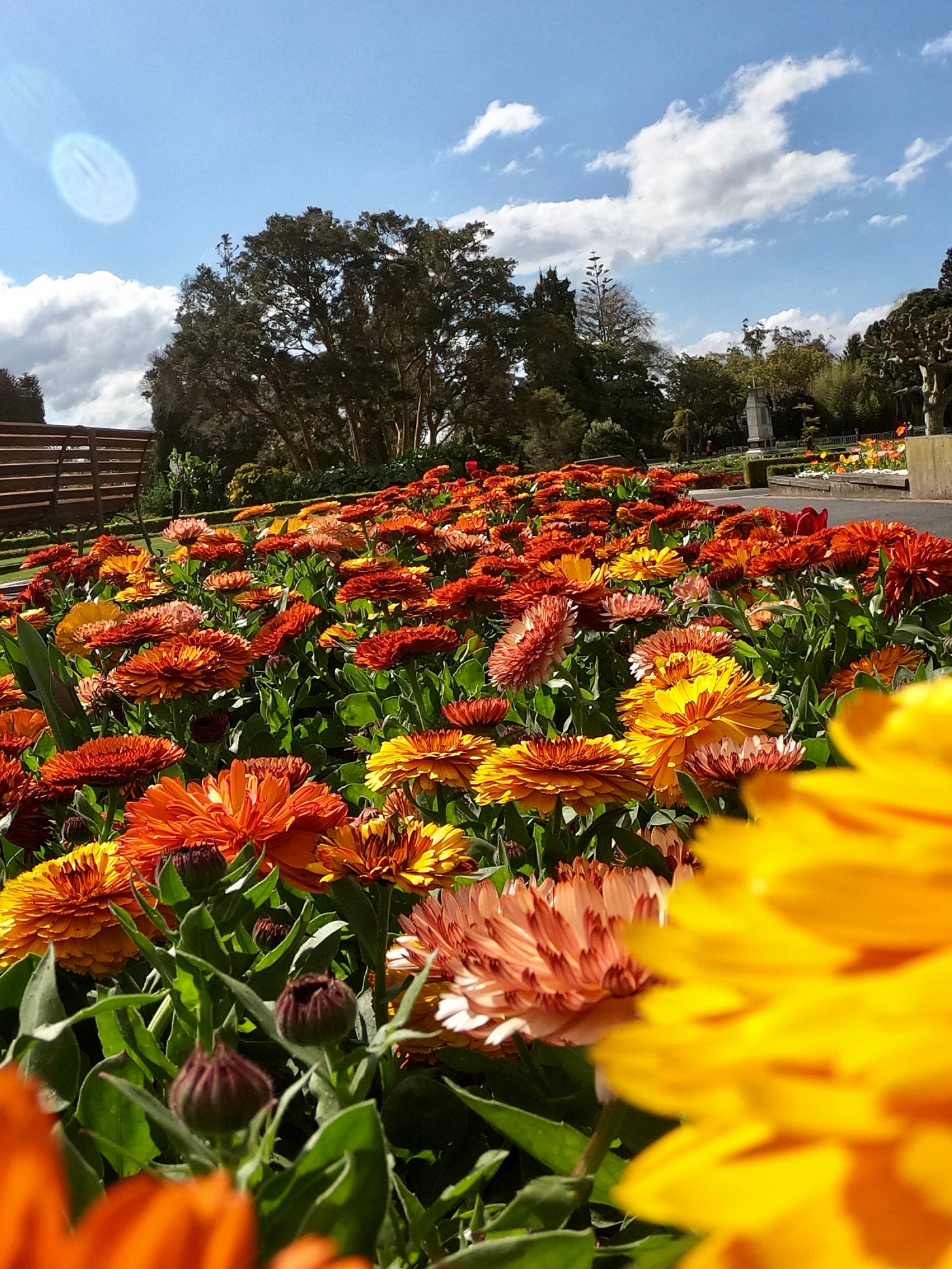 Have a wonderful week.
---
Donate
My forecasts have always been free. I do it out of my passion for the weather and find enjoyment in trying to stay one step ahead of Mother Nature. Thanks for coming along with me on the journey!
For years I've actually paid out of pocket to keep up my mailing list. I fund my efforts partially through my merch: https://teespring.com/stores/bennollweather
Your donations are much appreciated: https://www.paypal.com/cgi-bin/webscr?cmd=_s-xclick&hosted_button_id=UZBXYEUA89SPC&source=url