Ready or not, here comes a taste of fall!
Update #413
Hello everyone, I hope you are having a nice weekend. This is Ben Noll, delivering your weekly Hudson Valley weather update.
If you don't have time to read the whole post, check out this 7-day forecast — it has temperatures on it that we haven't seen in a while!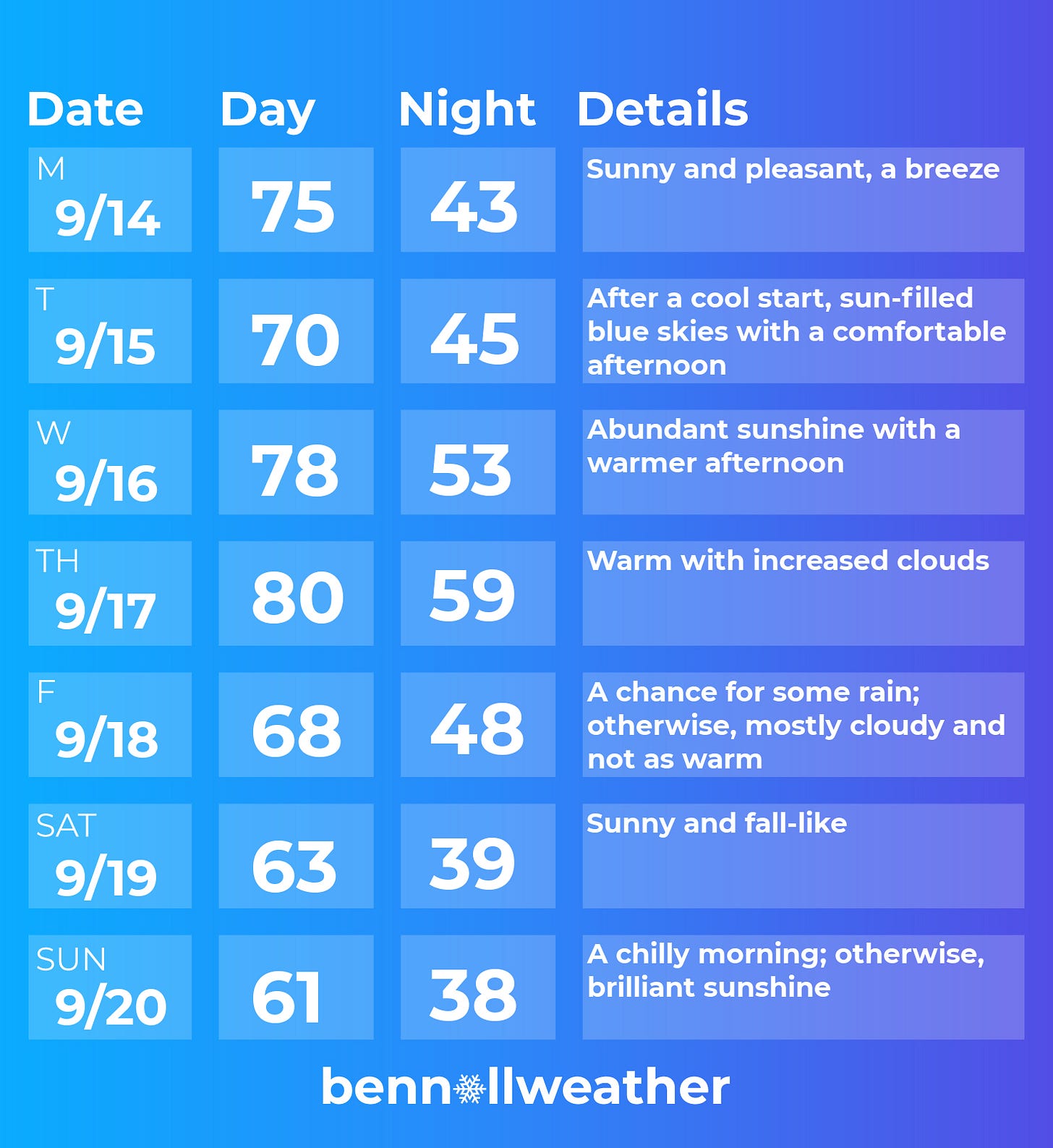 The working week
In a weeks time, we'll have temperatures that are more typical of October. That means highs in the 60s and the potential for lows in the 30s. Yes, you read correctly: 30s! 🥶
Several big high pressure systems of Alaskan origin will influence our weather over the next week, producing abundant amounts of sunshine and cooler temperatures at times.
The first area of high pressure will move in following the passage of a cold front on Monday morning. Monday will see increasing sunshine throughout the day, a breeze, and dropping dew points (less moisture in the air).
This transition will set the stage for a cool morning in the 40s on Tuesday. Keep the sweater close by! The rest of Tuesday looks to be one of those pristine, blue sky September days. It will receive a BenNollWeather score of 💯.
On Wednesday, we'll see the wind flow turn around to the southwest, resulting in a warmer day with temperatures well into the 70s. This happens because the high pressure system will move offshore to our east. Since air blows clockwise around a high in the Northern Hemisphere, we receive southwest winds on its back side.
On Thursday and Friday, our attention will turn to the south, where a tropical system named Sally will be continuing to cause lots of rain across Louisiana, Mississippi, and Alabama. Some of Sally's moisture could get tugged up into our neck of the woods on either Thursday night or Friday, but it's hardly set in stone. If you have plans on Friday, I suggest keeping an eye on the forecast: my Hudson Valley weather bot can help, as it tweets daily forecasts at 7:00 am.
Tropical troubles
Speaking of the tropics, the situation is quite busy. Sally is expected make landfall as a hurricane in eastern Louisiana later Monday, bringing heavy rainfall and significant storm surge. Paulette is expected to have a near direct hit on Bermuda as a hurricane on Sunday night. Rene is fading in the middle of the ocean. A tropical depression (#20) is strengthening west of Africa. Other areas of interest are in yellow and red. None of these systems pose an immediate threat to the Northeast states.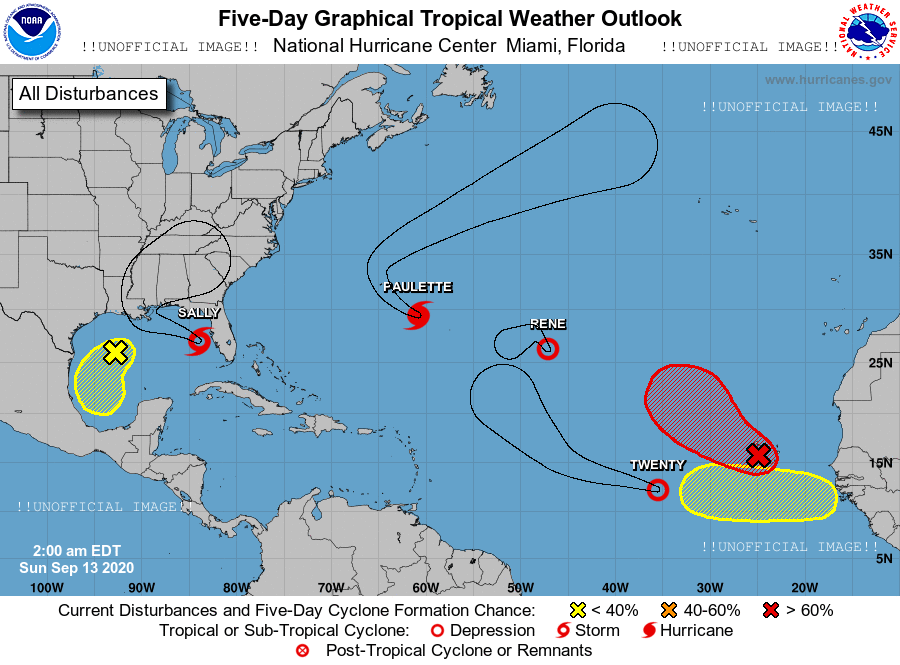 Next weekend
A strong cold front is expected to push through the region on Friday night, setting the stage for a fall preview next weekend. At this point, while both days look to have brilliant sunshine, daytime high temperatures are only predicted to reach the low to maybe mid 60s.
Overnight temperatures will be at most in the 40s and it could well be the first time the region dips into the 30s since June 1st.
For the week of the 21st, pretty awesome weather looks likely to start. There is a chance for some unsettled, cool weather during the 2nd half of the week.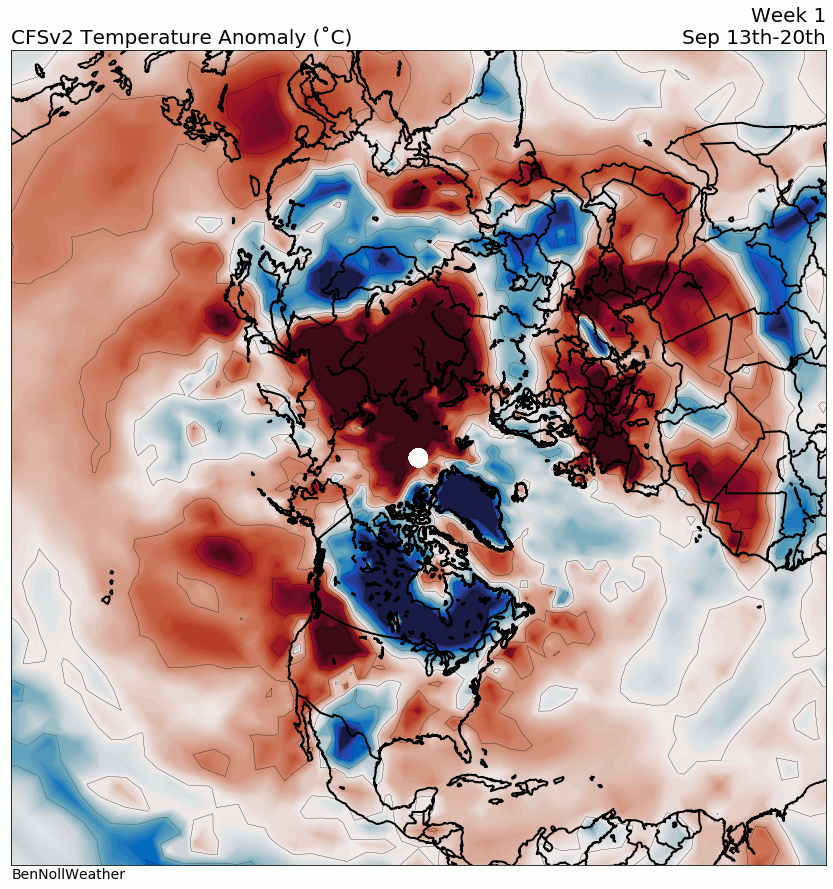 🟥 = above average temperatures | 🟦 = below average temperatures
The mid-September coolness shows up nicely in the animation above. A temperature rebound is possible toward the end of the month, but by then our daily averages will be lower. I'd recommend a gradual shuffle of your wardrobe away from summer clothes and toward fall ones.
Make it a great week.
---
Donate
My forecasts have always been free. I do it out of my passion for the weather and find enjoyment in trying to stay one step ahead of Mother Nature. Thanks for coming along with me on the journey!
For years I've actually paid out of pocket to keep up my mailing list. I fund my efforts partially through my merch: https://teespring.com/stores/bennollweather
Your donations are much appreciated: https://www.paypal.com/cgi-bin/webscr?cmd=_s-xclick&hosted_button_id=UZBXYEUA89SPC&source=url