Discover more from BenNollWeather
Hudson Valley weather and school predictions
Over 10,000 subscribers
I hope you like the temperature of 60 degrees, because during the week ahead, we'll be stuck near it! 🤷‍♂️
💡 Did you know that 60 degrees is approximately the global average annual temperature? Save it for your next trivia session: the global average temperature in 2022 was 59˚F.
The change toward cooler conditions comes courtesy of a "Greenland block", whereby a large area of high pressure becomes entrenched over Greenland and northern Canada, bringing above average temperatures to the Arctic region and dislodging colder, polar air into the Northern Hemisphere mid-latitudes (like the Hudson Valley).
If it was winter, we'd probably be talking about snow ❄️
Believe it or not, snow (and graupel - more on that below) was exactly what Chicagoans were talking about on Saturday. I was "lucky" enough to be among them! In my first trip back to the U.S. since 2019, I was greeted with a mid-spring flurry 😲
This atypical precipitation type, called Graupel, forms when supercooled water droplets freeze on falling snowflakes. This process, called riming, masks the original shape of the flake and causes it to turn into a snow grain.
It was the first frozen precipitation that I experienced falling from the sky in about 3.5 years! My travels are why this weekly newsletter is coming to you a little later than normal.
No, this icy madness isn't headed for the Hudson Valley. But the cooler air is…
Monday: cooler with sun, some afternoon building clouds, and highs in the mid-to-upper 50s — chilly at night 🥶
Tuesday: like Monday, but with an afternoon shower chance ♻️ — cold at night 🥶
Wednesday: a little milder than Monday and Tuesday with afternoon or evening showers around
Thursday: hopefully saying goodbye to the showers 👋
Friday: a low pressure system may approach from the south with increasing clouds, but the rain probably holds off until late if it arrives at all
Saturday: watching a complex disturbance to the south and west; rain possible, but not guaranteed 🌧️ ❓
Sunday: unsettled weather most likely nearby, but forecast details are foggy ☔ ❓
Looking ahead to the week of May 1st, it looks cool and unsettled, but maybe improving late 🤞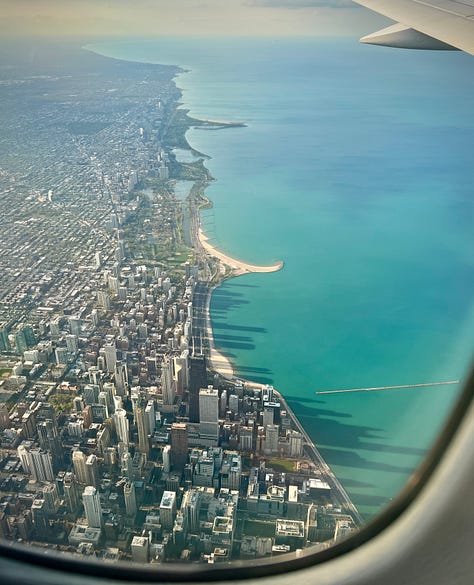 Where am I headed next?! Stay tuned!
Have a super-cool week ✌️
PS: premium subscribers will receive a May weather outlook next weekend.