Discover more from BenNollWeather
Hudson Valley weather and school predictions
Over 10,000 subscribers
27 years ago, the Hudson Valley was in the middle of a blockbuster blizzard: the blizzard of '96. It was one of my first memories — running to the window as the snow buried everything in sight and closed school for days. It became the benchmark that I measured future storms against. Montgomery ended up with about 20 inches of snow.
Do you remember it? 💭
Those were seemingly simpler times when snow days were easier to come by.
It was a storm that helped shape my future, fueling my initial desire to become a weatherman, a meteorologist. I wanted to understand the science behind the storms.
And that I went on to do.
➡️ On that note, I can confirm that there will not be a blizzard of '96 repeat this week! A January "snow drought" has landed in the Hudson Valley and it probably won't be alleviated this week… unless you count the potential for 1-3 flakes on Monday morning 🙃 🌨️
Early on Monday morning, mainly after 4:00 am, light snow may break out across the southern half of the region, mainly south of I-84. While it doesn't look like much, it could be just enough to cause some slick spots.
What? Light snow, mainly south of I-84.
When? 4:00 - 10:00 am.
How much? A coating to a half inch.
Impact? With below freezing temperatures, slippery spots are possible, mainly on side roads and sidewalks. Snowfall amounts generally don't look substantial enough to trigger widespread delays, but they can't be ruled out for southern Orange, Rockland, Putnam, and Westchester.
I'll have more updates on Twitter this evening and Monday morning, as needed.
Here's how the rest of the week is looking:
After any snow ends on Monday morning, it will turn out to be a pretty nice day! 🌤️
Tuesday also doesn't look bad.
Clouds will increase on Wednesday as a series of disturbances gather to the west. There's a chance for a bit of rain on Thursday, but it isn't a guarantee.
A stronger storm system will approach on Thursday night…
Since I last wrote a few days ago, things have trended warmer (surprise, surprise). Dreams of a four day weekend courtesy of Mother Nature are looking less likely to come true, but there's still a few days to watch the trends.
While there's still a chance it could start as a wintry mix on Thursday night or early Friday, the chances aren't great.
It looks most likely to be a rainy Friday giving way to improving conditions over the weekend.
🤦‍♂️ Not very wintry! The week of January 16th also looks milder than normal. At this point, it may take until the final week of the month for things to turn more seasonable!
Great for your heating bill but not for snow days!
Where has it been wintry?
It will come as no surprise that seasonal snowfall is (so far) running below normal in the Hudson Valley. It's more impressive to note that this snow drought extends far and wide: New York (away from Buffalo and Watertown), New Jersey, Pennsylvania, Maryland, Virginia, Connecticut, Massachusetts, Rhode Island, Vermont, New Hampshire, Maine, Ohio, eastern Michigan, West Virginia, Indiana, Illinois, Kansas, and parts of several other states!
The map below shows where snowfall has been above normal (in blue 🔵) and below normal (in orange 🟠) so far this winter.
So where has it been snowing? Well, Minnesota certainly stands out — most of the state has experienced above normal snowfall. North Dakota has been snowy too, as have many of the western states 🏂
As ski fields suffer in the east, they prosper in the west.
There's plenty of winter to go and I wouldn't be surprised to see things balance out a bit in the weeks and months to come, but we'll have to be patient!
From the New Zealand files: a secret (ish) beach
A line I stand by: the best beaches are never easy to get to. New Zealand has countless amazing beaches —many of which you could probably have to yourself on any given day— but a few stand above the rest. Those few are well worth the sometimes strenuous journey to get there.
This beach, called New Chums, was once voted a top-10 beach… in the world!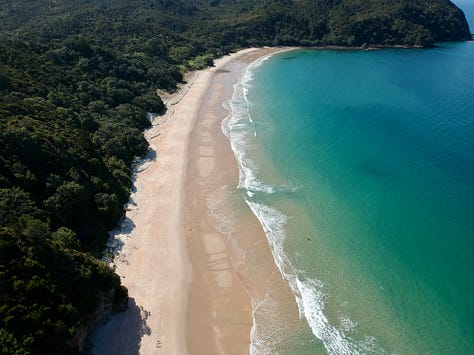 A trek over the hill, through the woods, across the thick tree trunk, along with a dose of determination, and a lot of sweat will get you to this slice of paradise.
Just as you allow me to take a virtual journey to the snow (whenever it may fall 🙄), I'll virtually take you to a stunning sandy beach!
If you ever find yourself on this side of the world and you're feeling adventurous, this might just be the place for you.
Hope life's a beach this week ✌️