Discover more from BenNollWeather
Hudson Valley weather and school predictions
Over 10,000 subscribers
👋 It's time to say see ya later to 2022 and welcome in the new year! January is the Hudson Valley's coldest month of the year on average — but you wouldn't know it with this forecast.
Before getting into it, I'm going to release my inner weather nerd 🤓
I really enjoying taking data and turning it into something interesting, informative, and digestible to a wide audience.
On that note, let's take a look back at 2022 annual temperatures and precipitation in the region, key metrics for measuring climate variability and change.
Here's the executive summary:
Average temperature: 51.9˚F, 1.9˚F above average, 7th warmest year on record

Total precipitation: 35 inches, 85% of normal, 20th driest year on record

2022 will be remembered for its warmth and dryness in the Hudson Valley

4 of the region's 7 warmest years on record have occurred since 2016

Since 2012, only 2 years featured above normal annual precipitation
The charts below shed more light on the trends over the years.
The week ahead
20s, 30s, 40s, 50s, 60s — the week ahead has a little bit of everything! 🎢
Things will start pretty simple before getting more complicated later in the week.
Monday is probably the pick day of the week with mild temperatures and some sunshine.
A warm front will move through the region on Tuesday, dragging some moisture northward and coming with a likelihood for some rain, particularly in the middle part of the day.
🌡️ Warm sector Wednesday! We'll be in the "warm sector" on Wednesday, behind the warm front but ahead of the next cold front, seeing temperatures surge into the 60s along with some noticeable humidity.
A cold front will likely move through the region on Wednesday night, setting the stage for a different end to the week, weather-wise.
It will be much cooler waking up on Thursday.
❄️ A slow-moving series of upper-atmosphere disturbances will yield a complicated setup from Thursday into Friday. Right now, the period is worth watching for a bit of wet snow, mainly on Friday — but forecast confidence is low as of this writing.
If the situation warrants an update, I'll be in touch.
An improving trend is currently foreseen for next weekend, but the forecast isn't set in stone. Keep watching!
Looking further ahead, the week of January 9th doesn't look particularly cold, but it may turn progressively more unsettled. It's way out there, but there's a sign for some unsettled weather from the 12-14th.
If you read my premium post from a few days ago, you'd be in the loop about mid and/or late January holding more potential for snowy days than the early month.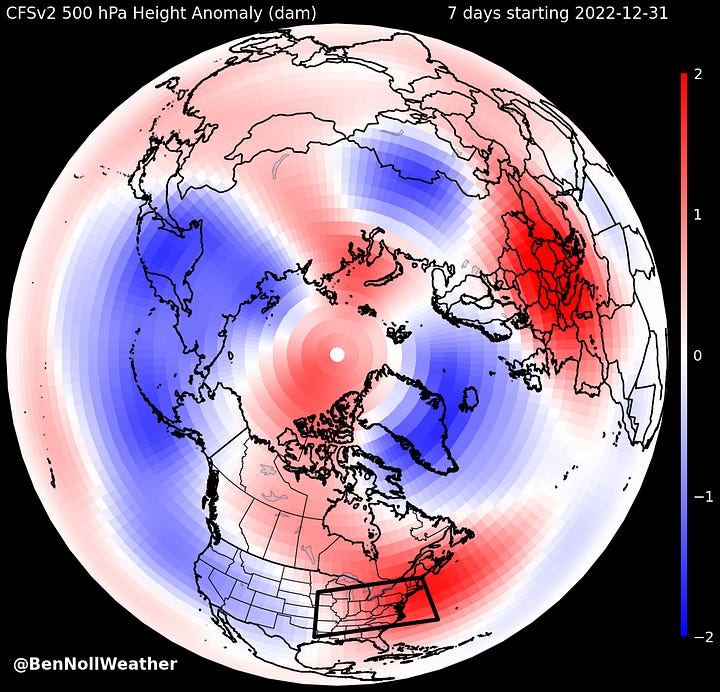 Happy New Year from down here
Best wishes to you in the year to come. May it be filled with an abundance of your favorite kind of weather, whether that's snow days or sunshine ☺️
Below are some photos of Auckland's Sky Tower as the clock struck midnight — 18 hours ahead of the Hudson Valley 🎆
✨ Hope your first week of 2023 is glowing! ✨