Discover more from BenNollWeather
Hudson Valley weather and school predictions
Over 10,000 subscribers
Hello! Last week featured our coldest mornings since April, with the temperature dipping into the 20s 🥶
As daylight saving time bids adieu, we find ourselves in the dark an hour sooner 🌃, yet the grand opening of snow day season remains temporarily postponed ⏸️ ❄️
This week I'm introducing the Hudson Valley snow day meter. Every week from now through the beginning of spring, I'll include it in my posts so that you quickly know whether or not a winter storm is possible in the week ahead.
In a general sense, the weather patterns in the weeks ahead look fairly standard for November. Not hot, not too cold, and no winter storms on the immediate horizon. There will be an active jet stream pattern over the U.S. this week, which will fuel a rain event in the Hudson Valley on Thursday-Friday.
Last winter, the first inch of snow fell on November 15th. We'll very likely be waiting longer than that this year.
Monday: mostly sunny, cooler than the weekend (low 50s)
Tuesday: windy and warm, then a late-day cold front — well into the 60s 🌡️
Wednesday: cooler again — similar to Monday
Thursday: quite cool and dreary with a chance for some rain or drizzle, even some wet snow possible over higher elevations 😶‍🌫️
Friday: an uncertain forecast (as of Sunday); could be another round of rain and elevation wet snow or partly sunny if the storm misses to the south
Saturday-Sunday: turning colder, drier, and sunnier for the weekend, probably in the upper 40s to near 50 during the day with frosty nights in the 20s 🥶
The week of November 13th is looking cool and dry to start before warming up later. The risk for winter storms continues to look low.
At this point, the week of Thanksgiving is looking warmer than average, but there may be some rain along the East Coast — still plenty of time to watch…
No snow days — yet ⏳
---
If you read last week's newsletter or my premium post What a cyclone in Vanuatu means for you, you would have seen some photos from my recent work trip to Fiji.
Here are a few more 🌴 🌺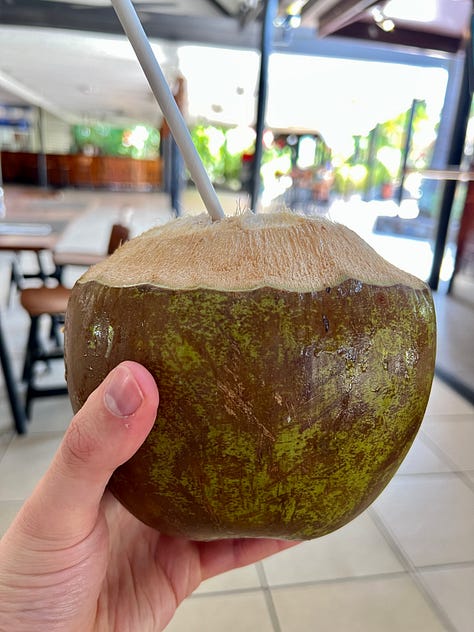 Hope your week is sweet! 🥥